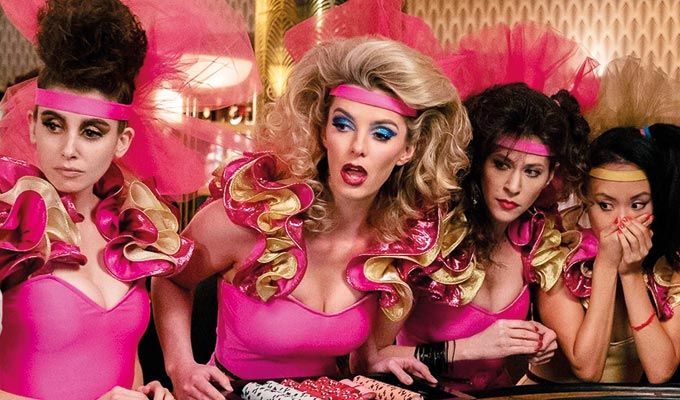 We're no longer wrestling with our confidence
Netflix wrestling comedy Glow has been praised for positive messages about the female body – and that's rubbed off on its cast too.
Several of the stars have revealed how being in the show had given them a newfound confidence, and a more healthy relationship with their bodies.
Speaking at Montreal's Just For Laughs Festival, Betty Gilpin – who plays Debbie – said the show 'made me realise the way I've been standing in my own way because of nerves and fear. I had to pay brain tolls to get to the point of feeling confident in a scene.'
She also explained how she got into acting straight after high school, when her slight body meant she was typecast in nerdy roles – the 'examines bugs' girl as she put it. 'But then I went through late puberty when my tits became the size of printers then got a cast as the person who books I always carried at high school. In physical scenes I always felt uncomfortable. I had to check the "male gaze" box.'
But she said since she started exercising for Glow her confidence grew, and said that now even if her costume is little more than 'tiny glitter triangle diapers, I feel more clothed than when I was playing a slutty lawyer.'
But she also admitted the wrestling scenes took their toll, saying: 'My body is like a golden retriever that doesn't know it's on the way to the vet.'
Show creator Liz Flahive told how she was 'secretly pregnant' during the first season, saying she didn't want that to detract from her being a boss.
She said: 'There was a deep irony that I didn't want to talk about my body. That's where my brain went.'
Rebekka Johnson, who plays Dawn said that before the show she had the 'classic "hate my body"… but now I can go to the beach wearing a bathing suit and don't even think about it.'
Kimmy Gatewood, who plays Stacey, said: 'We didn't get into comedy because we loved our bodies or ourselves, so this was a big leap.'
And BritneyYoung (Carmen) said she was pleased she wasn't stereotyped as a larger woman in the show.
'My body's never treated as plus size it's treated as a body and that's very rare,' she said. 'In this business a lot of people draw attention to what we look like.'
Season three of Glow drops on Netflix on August 9.
Published: 27 Jul 2019
What do you think?