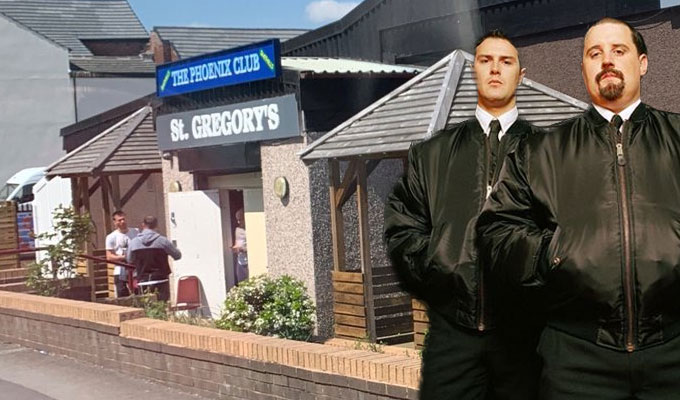 Is this a sign Phoenix Nights is returning?
Could Phoenix Nights be rising from the flames once again?
That's what some fans thought when they saw the 'Phoenix Club' sign reappear above St Gregory's Club in Bolton, where the sitcom was filmed, sparking rumours of a third series.
Peter Kay has teased further instalments of the hit Channel 4 comedy since it ended in 2002 and confirmed that a script for more episodes was written in 2017. But he admitted that 'things kept getting in the way' of filming it.
The sign's re-appearance was spotted by the @Ph0enixnights Twitter fan account. And Neil Fitzmaurice, who played Ray Von and co-wrote the show with Peter Kay and Dave Spikey told them: 'If it was up to me we'd have done it ages ago pal.'
Sadly though, filming won't be resuming – the sign was merely erected to cater for all those who want to pose in front of it for their Instagram feeds.
The owner of St Gregory's, Paul Riley, told The Bolton News that 'there's no plans for a new series that we know of.
'I think because it's such a popular show, people just like to come up, visit and have their photo taken.
'We always had people coming in and asking us if it was the same place. It would be a daily thing. So we've decided to put the sign up because it makes it nice for people to be able to have their photo taken outside.'
The Phoenix Club sign is back up at St. Gregory's....
Series 3 anyone??
Spread the Word... pic.twitter.com/4kQ6cPXja8

— Phoenix Nights (@Ph0enixnights) May 17, 2019
Published: 23 May 2019
What do you think?