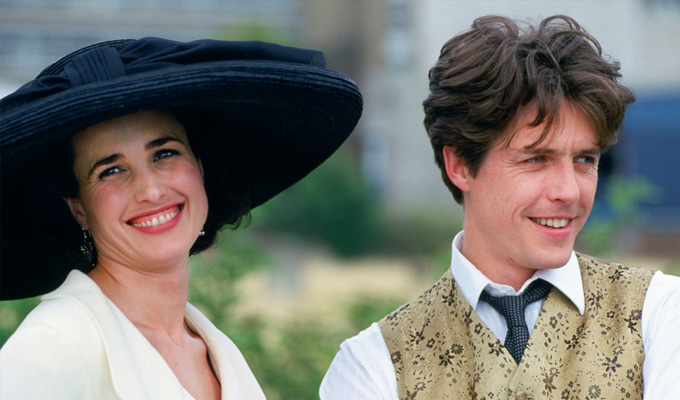 'What a reprehensible,callous little shit'
It took £190 million at the box office - but so-called film experts originally thought Four Weddings And A Funeral was an unfunny failure.
Censors who saw the 1994 comedy before its release were scathing in their verdicts, according to documents revealed today.
One examiner who assessed the film wrote: 'As well as being morally bankrupt, this film joins a long line of British comedies that fail even as the credits roll.'
Another wrote: 'If this new British comedy were a person, you would not want it to be your friend.'
And they were especially scathing of Hugh Grant's character when they said: 'Superficial, smug and carelessly (and worse, uninterestingly) nasty are words that spring to mind for a film whose central character is meant to be lovable and quirky, but is, for this viewer, a reprehensible, callous little shit.'
Luckily their verdicts - obtained by The Mail on Sunday - held no weight as they simply had to give the film a certificate, plumping finally for a 15.
The criticisms are released as the cast, including Grant, Andie MacDowell and Rowan Atkinson, reunited for a Comic Relief sketch that will be aired on Red Nose Day on Friday.
Published: 10 Mar 2019
What do you think?