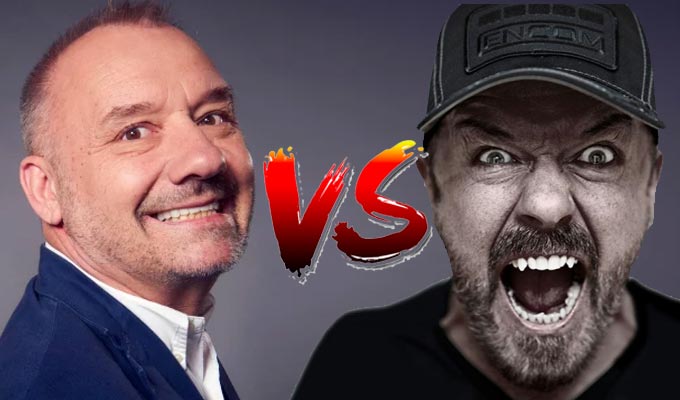 When Bob Mortimer clobbered Ricky Gervais
Ricky Gervais was once given a black eye – by Bob Mortimer.
The revelation has been shared by Big Night Out producer Lisa Clark, a long-time collaborator with Mortimer and his comedy partner Vic Reeves.
Gervais's injury came in the BBC Two show The Fight, in which celebrities boxed each other for charity.
It began in 2002 with Gervais fighting businessman Grant Bovey, best known at the time for being married to television presenter Anthea Turner.
However, Gervais needed someone to spar with before the fight and Mortimer volunteered.
'He fought Ricky, it was part of the training thing' Clark told sketch comic Matt Skillington on his podcast. 'I've got it on tape at my house.
'It's brilliant. Bob gave Ricky a black eye.'
Nevertheless, Gervais went on to triumph on points against Bovey in three rounds of 90 seconds. Suffering a bloodied nose, he admitted: 'I would not recommend getting into the ring and punching someone in the face. I always knew it was a very, very hard game that needs a lot more skill and dedication than I have got. Up close, you do see things you never imagined.
'It must be a lot different when you've got everything riding on it. I've got even more respect for boxers now. It did open my eyes - which, funnily enough, is actually the hardest thing to do in the ring. You just keep shutting them and putting your head down.'
The Fight attracted an audience of 5.5million viewers. More contests, between Spandau Ballet singer Tony Hadley and the BBC's deputy political editor John Pienaar, and investigative journalist Donal MacIntyre and singer-turned-actor Darren Day, were lined up.
But the BBC bowed to pressure from The British Boxing Board of Control not to continue with the series after it complained the bouts were dangerous and promoted unlicensed fighting.
Instead, the fights continued as an on-off part of Sport Relief, with Bob 'The Woodpecker' Mortimer defeating Les 'The Blond Bomber' Dennis on points, also in 2002.
Here is a video of the Gervais v Bovey fight:
Published: 22 Feb 2019
What do you think?