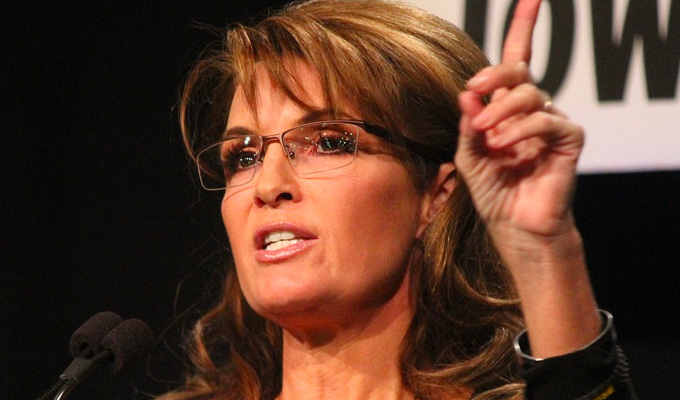 'Yup, we were duped'
Republican vice-presidential candidate Sarah Palin has revealed that she was targeted by Sacha Baron Cohen's new satirical TV show.
The right-winger said she had 'fallen victim to the evil, exploitive, sick "humour" of the British "comedian"' – who had posed as a wounded military veteran for the spoof interview.
Entitled Who Is America?, the show has been a year in the making, under a strict cloud of secrecy.
The will launch on the CBS-owned Showtime cable channel in the US on Sunday and on Channel 4 in the UK at 10pm on Monday.
Palin wrote on Facebook: 'Yup - we were duped. Ya' got me, Sacha. Feel better?'
The Alaskan-based politician said she and one of her daughters had travelled across country to be interviewed in Washington DC under the guise of making a legitimate documentary.
She said that once there. 'Cohen (I presume) had heavily disguised himself as a disabled US Veteran, fake wheelchair and all. Out of respect for what I was led to believe would be a thoughtful discussion with someone who had served in uniform, I sat through a long "interview" full of Hollywoodism's disrespect and sarcasm - but finally had enough and literally, physically removed my mic and walked out, much to Cohen's chagrin.
'The disrespect of our US military and middle-class Americans via Cohen's foreign commentaries under the guise of interview questions was perverse.'
She challenged the programme makers to donate all the profits from the show to veterans' charities, and added: 'Mock politicians and innocent public personalities all you want, if that lets you sleep at night, but HOW DARE YOU mock those who have fought and served our country.'
Earlier this week, the Baron Cohen released a teaser clip showing former US vice president Dick Cheney apparently agreeing to autograph a 'waterboard kit'.
Published: 11 Jul 2018
Recent Punching Up
What do you think?