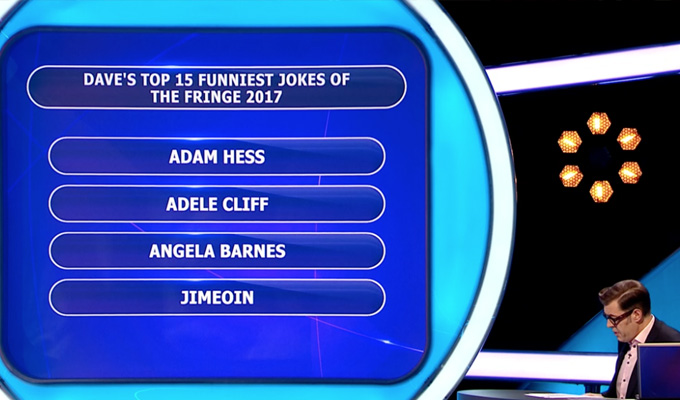 A Pointless trophy?
Any comedian who believes that getting on to Dave's Joke Of The Fringe shortlist is a shortcut to fame might have another think coming.
For the nominees were the subject of one of the rounds on Pointless last night – and it revealed a huge number of pointless answers.
One of the categories in the final round was to name any comedian who was on the top 15 last year... and half of them drew a blank from all 100 people surveyed for the BBC One show.
Adam Hess, Adele Cliff, Angela Barnes, Jimeoin, Alistair Beckett-King, Andy Field and Phil Wang were all revealed as pointless answers.
And even existing celebrity isn't enough to lodge in the consciousness. Ed Byrne, who the final contestants had considered mentioning, scored just one.
Tim Vine was the highest scorer, co-host Richard Osman revealed, but did not discloses how many people could recall his name.
Vine was only 15th on the list when it was published last year with his line - 'I went to a Pretenders gig. It was a tribute act'. The title went to Ken Cheng for his quip: 'I'm not a fan of the new pound coin, but then again, I hate all change.'
Here are the jokes Britain has forgotten...
Andy Field: I like to imagine the guy who invented the umbrella was going to call it the 'brella'. But he hesitated.
Jimeoin: I'm rubbish with names. It's not my fault, it's a condition. There's a name for it..
Angela Barnes: 'A friend tricked me into going to Wimbledon by telling me it was a men's singles event.'
Alasdair Beckett-King: Whenever someone says, 'I don't believe in coincidences.' I say, 'Oh my God, me neither!'
Adele Cliff: As a vegan, I think people who sell meat are disgusting; but apparently people who sell fruit and veg are grocer.
Phil Wang: For me dying is a lot like going camping. I don't want to do it.
Adam Hess: I wonder how many chameleons snuck onto the Ark
Published: 7 Jun 2018
Recent Punching Up
What do you think?