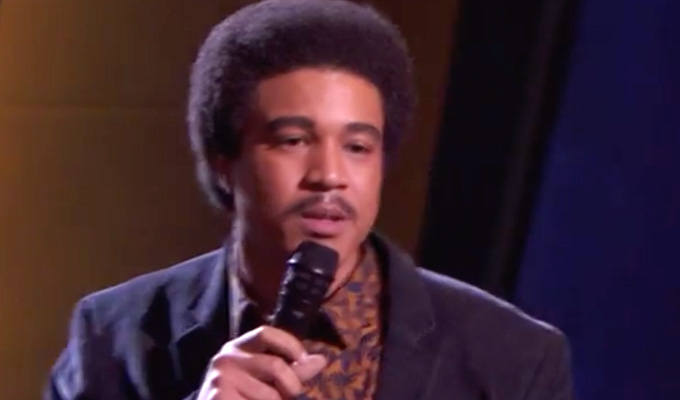 Watch Richard Pryor's son bomb on stage
As the son of arguably the greatest comedian ever, it was always going to be difficult for Mason Pryor to follow in his father's footsteps.
And so it has proved, after footage of him bombing on stage at New York's legendary Apollo Theatre was leaked.
He's seen getting loud boos for his material about Donald Trump and Vladimir Putin in the stand-up set, which was recorded for American TV talent show Showtime at the Apollo.
When Mason took to the stage, he attracted immediate, superficial comparison to his late, great father, Richard. 'He looks just like his daddy!' a woman in the crowd is shown saying.
Mason wins immediate laughs by confessing: 'Man, I'm nervous. I can literally hear my dad up in heaven right now. "Boy, you better not mess this up!"'
But things go downhill from there, as the audience turn. The camera then cuts to the show's host, stand-up Steve Harvey, with affected disbelief etched across his face.
However, some in the crowd are shown to be willing Mason to 'keep going', despite the catcalls. So despite the clip on gossip website TMZ, US viewers must wait until his performance airs on the Fox channel tonight o see if the Pryor legacy endures.
Mason, 31, is the youngest child of the groundbreaking comic and Geraldine Mason, the actress he met on the set of the 1986 film Jo Jo Dancer, Your Life Is Calling. He was born Franklin Matthew Pryor and became a stand-up in 2007. He has joked that his mother cajoled him into it, telling him 'I didn't fuck Richard Pryor for nothing!'
His half-sister Rain was also pushed towards performing stand-up by their father and appeared at the Edinburgh Fringe in 2006. But the 48-year-old prefers to perform monologues of a more theatrical nature, and as a cabaret singer.
Mason appeared in a 2012 show, Sons of Comedy, with Brando Murphy, who has traded on his physical similarity to Eddie Murphy but has admitted that he isn't related to the star.
Pryor Jr has previously spoken of the burden of expectation his genes have brought him, but quipped that he learnt a lot from his late, famously troubled father - 'like what not to do!'
Published: 8 Mar 2018
Recent Punching Up
What do you think?