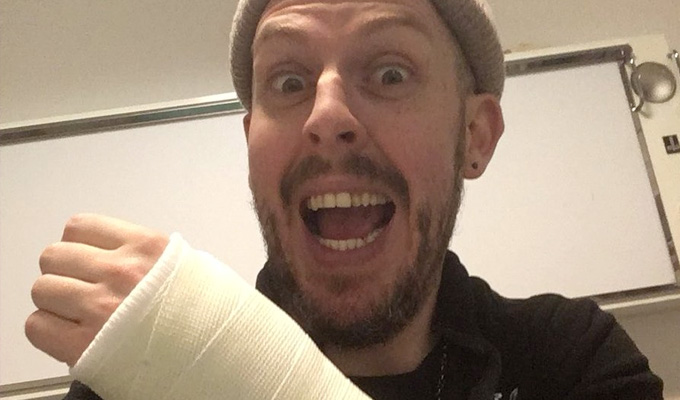 Carl's cold snap
Stand-up Carl Donnelly has fractured his wrist - two hours into his first day of a winter sports holiday
The comic was taking a trip to Meribel in the French Alps with fellow comic and podcast co-host Chris Martin when the accident happened today.
He posted the above image of his arm in plaster on social media, adding sarcastically that his 'mountain holiday has got off to a great start'.
Ironically, just a day earlier Martin posted a link to their latest podcast episode with a poor choice of words – saying the show would 'fracture our relationships with' their other halves.
Donnelly will no doubt be telling more when he Martin perform a comedy show at Jack's Bar in the French ski resort tomorrow night.
Meanwhile, the New York 4 have returned to the UK after being stranded in Manhattan by the snowstorms battering America's East Coast. James Acaster, John Robbins, Ed Gamble and Lloyd Langford – whose plight made the BBC News website after Chortle first reported it – finally caught a flight yesterday, four days later than planned.
Published: 10 Jan 2018
What do you think?