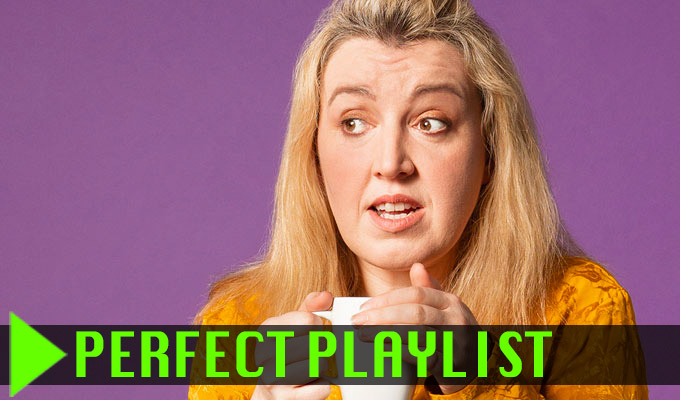 Brass Eye is completely fearless satire
Larry Sanders Show
Oh what a perfect thing this is. In the six series of this sitcom set behind the scenes of a late-night US talk show, Garry Shandling and the amazing cast of comics and actors absolutely nail the depiction of human beings vying for power, unaware of how nakedly vain and superficial their attempts look.
The characters are lovable fools destined to make idiots of themselves over and over again. A show like the Larry Sanders Show puts paid to the notion that audiences find it hard to relate to comedies that are set within the entertainment industry. I think you'll find Garry Shandling and later 30 Rock have proved that's absolute tosh.
Jiminy Glick
A character devised by the great Martin Short for The Martin Short Show which later got his own series, Primetime Glick.
Glick is an interviewer of the stars who conducts his shows in the most unprofessional of manners. The candidates are real celebrities, many from his Second City days, who 'play along' with Glick's schtick. Part of the fun is watching them trying not to crack up as Glick insults them over and over.
Brass Eye
There is no such collegiate camaraderie in Brass Eye. Any celebrities on this political satire show are completely hung out to dry by the bizarre and intense Chris Morris who feeds them all the rope they need to hang themselves.
While Brass Eye is bizarre, grotesque, gut punching and completely fearless satire there is a reassuring sense when watching it, that the core morality behind the writing is thoughtful and deliberate.
Morris asks for our trust him to follow him into tricky territory and delivers us home safe very time. The timing of it is fortunate too for it was produced in the 1990s, ie that sweet spot of time after TV standards relaxed but before it became risk-averse as it is now. Phew! Lucky us.
Absolutely Fabulous
Jennifer Saunders and Joanna Lumley teach a performance masterclass in this sitcom. Set in the glamorous world of London PR, we watch these two gloriously grotesque clowns hunt for whatever drink, drugs and attention they can get on what seems like an extended holiday from reality.
The writing is crisp and brutal. The comic timing is superb. This is a classic example of a show that feels at once modern and traditional at the same time.
The Office
Much like the Larry Sanders show, Ricky Gervais's Office goes after that weak spot for power and attention we all have.
The characters in this case, however, are much more unprepossessing, set as it is in a paper factory in Slough.
Gervais courageously inhabits the painfully weak and pathetic David Brent but unlike Larry Sanders has nowhere near the performance abilities and so languishes in obscurity.
The cast play awkwardness, frailty and repressed emotion with a truthfulness that is at times heartbreaking. It was the form of the show however that took everyone by surprise. In adhering to a mockumentary format, the audience got an extra level of intimacy with the characters that was beyond what we were used to and could actually leave you feeling a bit emotionally raw afterwards.
All Of Don Rickles' interviews on David Letterman
Do yourself a favour and allow an hour today to fall down a YouTube hole of interviews of Don Rickles on the David Letterman show.
The comedian, who passed away in 2017, had a career that spanned eight decades and would routinely appear on Letterman's stage where the two would engage in a mock argument.
Rickles was the perfect foil for Letterman who relished Rickles attempts to undermine him. On a show where guests understandably sought Letterman's approval, Rickles, though in his 90's, came across as more fresh and original by playing utter disdain for the host. This is funny... old school.
• Eleanor Tiernan: Enjoying the Spotlight Responsibly is at Banshee Labyrinth at 14:20 daily.
• Read more Perfect Playlists here.
Published: 6 Aug 2019
What do you think?