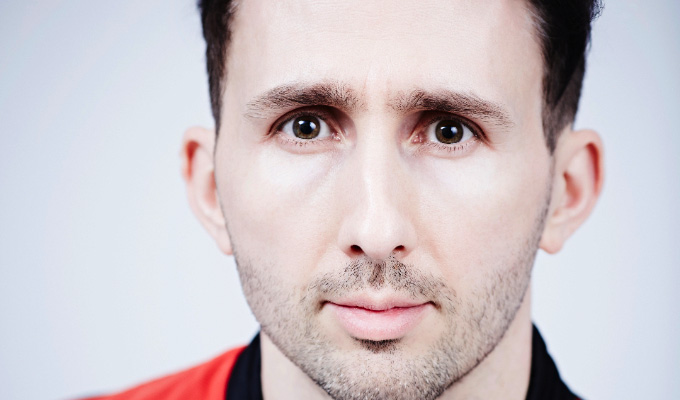 'There are hundreds of good comics and only a handful of great ones'
A question I'm often asked is 'Nathan, for God's sake why are you doing comedy?' The answer is those moments of inspiration and delight that come along so infrequently but stay with you forever.
I work in comedy in the vague hope that one day someone will pick something I've done for their Perfect Playlist and say that I've inspired them, I just need one person and I'll die happy.
Here are the six films and TV that have inspired me over the years either to get in, or stay in, the most ridiculous job in the world.
Swingers
I love everything about this film. It's the first film I watched when I moved to London and wanted to be in comedy. It was everything I wanted to do in the business - be cool, underground, make things yourself, on a budget, don't compromise, don't sell out, and if I'm being honest, at the time it's also how I wanted to live my life - in Vegas, be money! - no skank shift.
This film has cost me thousands in trips to LA and Vegas ever since and hopefully I'm still sticking to my principles: you can achieve great things and not go down the normal route.
Here's a film that resisted being reshaped a million times by a million producers, it's the film Jon Favreau knew was funny and wanted to make. I love everything about what that stands for.
The most famous clip is probably the answerphone scene - so beautifully shot, acted, directed, edited. When something is perfect, why do a million people want to change it? Trust the talent, they know what works!
Eddie Murphy: Raw
Now there's gonna be lots of Raw and Delirious that is outdated and offensive. But what you can still see now is what I saw in these shows when I was at school and loved them. Eddie Murphy is a superstar.
There are hundreds of good comics and only a handful or great ones. Why be in this job if you don't want to be great? Aim high. And as Eddie says in this clip, whatever makes people laugh, say it. What an incredible freedom.
As a 14-year-old kid I watched Raw and Delirious and thought: 'Oh my God, he's saying anything!' How inspirational. I didn't even think that people could take offence.
We had a class where we had to pick our favourite comedy videos and aged 14, I showed this to the class. My teacher was horrified, but to his credit, he allowed the clip to play out. Even if you're offended, you have to be impressed by the talent.
Here's the Bill Cosby bit of Raw, when Bill Cosby was famous for something else:
The Trip: Michael Buble
I love seeing comedians loving what they're doing. There's a famous bit in Bottom Live! when they corpse, I saw it live and then when the DVD came out and I realised it was scripted and they did the same thing every night I was gutted!
I love seeing great comedians, who notoriously are the grumpiest bunch of cunts ever, having a genuine laugh.
Here's Rob Brydon making Steve Coogan laugh (I think for real!) in my favourite scene from the Trip, which is obviously from start to finish and in every single second, and absolute treat.
Golden Globes opening: Tina Fey and Amy Poehler
All their Globes openings are brilliant. As are Ricky Gervais's, but there's a real warmth in Tina and Amy as well as being hilarious. And they are sometimes just as caustic as Ricky.
There doesn't need to be more women, men, ethnic minorities in comedy. All there needs to be in comedy is more funny people. Let's take a risk and have more funny people. Here's the 2015 one - another joke about Bill Cosby!
Bullseye
I couldn't do a Perfect Playlist without mentioning Bullseye. Everyone who knows me knows it's my favourite comedy. I never really watch the quiz part, just the interviews and Jim's opening jokes. 'You're a postman, so you'll have seen a few knockers in your time.' Jim quips pretty early on in this clip.
And then there's jokes that make absolutely no sense. 'You're a regular in the army - you'll have no problem with the bull then?' The audience don't laugh and Jim accuses them of being dead. I have literally no idea what this joke means. If anyone knows can they let me know please.
My favourite episode (not this one) is when someone reveals they used to guard Rudolph Hess. A horrific story. Keep it light mate.
Anyway, they always talk about the lovely day they have had and that Jim will 'see them in the bar after'. Things were different back then, I doubt Ant and Dec give a fuck about the contestants after the show.
Everyone on the programme is younger than I am now, but they all look 30 years older. Here's a whole episode, you'll have to wait til the end to see if they win the kitchen (which they'd have to split between the two friends).
And at the end Jim tells everyone watching at home to have a safe journey home. Literally no fuck-up would make them do a retake. And the whole thing is remarkably YewTree free. Smashing!
Bo Burnham
This clip shows what's possible with stand-up when you reach a certain level, have a budget and can do shows in theatres.
I love the stripped down shows - my favourite stand-ups are Bill Burr, Louis CK, Jerry Seinfeld - no gimmicks, just you and a mic.
But my goodness, when someone uses the lights, the sound like Bo Burnham does here, it makes you think 'why doesn't everyone do this?'. And this clip also sums up where I am with my stand-up right now. I wanna please you, but I want to be true to myself. A part of me loves you, a part of me hates you, a part of me needs you, a part of me fears you. I wanna say what I think and don't care what you think about it. A steadily declining mental health, as I attempt to give you what I can't give myself.
• Nathan Cassidy: The Man in the Arena is on at Laughing Horse @ The Free sisters, 19:45
Published: 11 Aug 2017