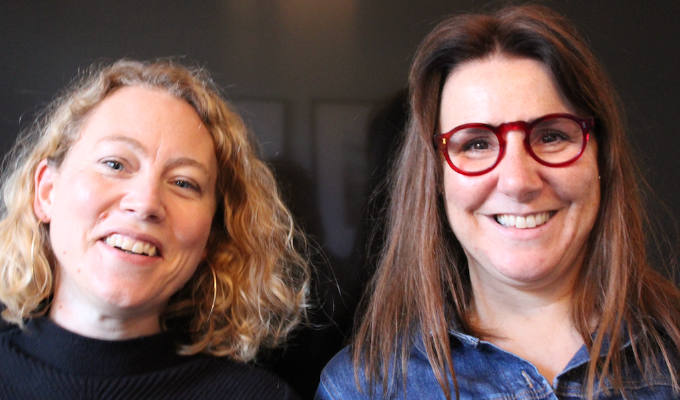 Comedy PR Katie Phillips launches cancer podcast
Comedy publicist Katie Phillips has launched a podcast about her life after being diagnosed with cancer.
In February, the 43-year-old – whose clients have included Ricky Gervais, James Acaster and Have I Got News For You – was told she had thyroid cancer.
Despite having no prior health issues she was diagnoses with a type of thyroid papillary cancer known as hobnail, with a ROS1 fusion. The doctors said that her diagnosis was 'rare' and 'complicated'– not words that Katie wanted to hear in the same sentence.
Now she has joined her journalist friend Clair Whitefield to talk about her experiences on the podcast Talking With Cancer, from her treatment to how she's experiencing the world now that - in her own words - 'everything has changed and nothing has changed'.
She said: 'I wanted to keep a record of what I was going through because I thought time would move fast and I'd forget what was happening week to week.
'I also thought, rather than relaying my progress to all my friends and family one by one, which I found exhausting and stressful, I would send them a recording each week of my conversation with Clair.
'I find our chats really cathartic. I look forward to our conversation and I always feel I can close the week's chapter once we've spoken. Clair is just brilliant at guiding the conversation and making me feel understood and in safe hands"
Clair added: 'When I first found about Katie's diagnosis, I couldn't pinpoint anything that felt like the right way to express that I'd be there for her.
'Doing this podcast has been my way to support Katie, in a way that feels steadfast and useful. We've always talked; and baked into every episode is the trust, jokes and honesty that come from 20 odd years of friendship.
'For everyone who listens in, I hope our podcast gives you a twinkle of what it's given me; an insight on how to navigate the unknown with wisdom and humour, bravery and curiosity. It's been an utter bloody privilege.'
Four episodes have been released so far and are available here.
Published: 15 Jun 2022
Recent Other News
What do you think?