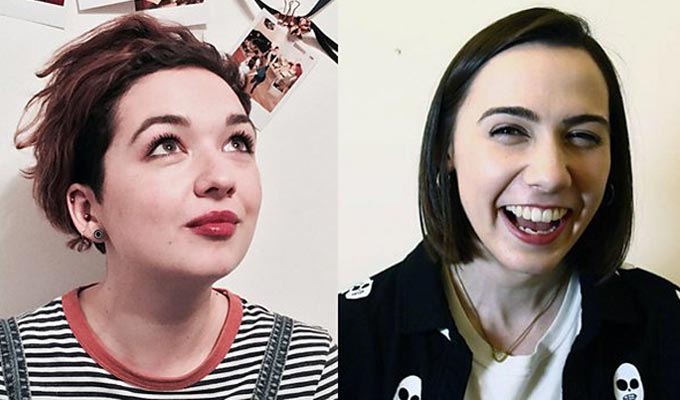 BBC celebrates 40 years of its radio comedy writers' bursary
The BBC has announced that Kat Sadler and Catherine Brinkworth are to receive this year's Radio Comedy Writers' Bursary.
It is the 40th year of the initiative, which gives new writers a chance to write for a year across a variety of shows, and the first time there have been no men on the scheme.
Previous bursary winners include Stewart Lee and Richard Herring, Steve Punt, Angus Deayton and John-Luke Robert.
The scheme was devised in 1978 by legendary comedy producer David Hatch and BBC Television's then Head of Light Entertainment, Jimmy Gilbert. The aim was to give new writers a one year contract to work across whatever shows were in production, enabling them to give up their day job and make the move into full time professional writing.
The first recipients of the bursary were Rory McGrath, Jimmy Mulville and Guy Jenkin and since then the scheme has given early opportunities to 81 writers.
Simon Blackwell, who went on to work on The Thick Of It and Veep said: 'Without The BBC Radio Comedy Writer's Bursary I wouldn't be writing comedy for a living today. I didn't start writing until I was in my thirties, when we already had two kids.
'At that crucial point in my career the bursary allowed me to go part-time in my day job and free up time to write for a number of BBC Radio shows. It's a fantastic scheme and I feel very fortunate to have benefitted from it.'
Comic and podcaster Danielle Ward said: 'Being awarded the bursary allowed me to give up my office job and become a comedian full time. Without it I'm not sure I'd have ever made that leap. I learned a lot very quickly and made some brilliant contacts and friends, many of whom I still work with today".
Of this year's recipients, Sadler is a writer, actor and stand up, who is also the editor of Succubus, a satirical women's magazine. In the last few years, she has performed stand up on BBC Radio 4 Extra, been a semi-finalist in the Chortle Student Comedy Award and written and performed in her own sitcom, which was selected for So You Think You Write Funny in 2016.
She said: 'I feel incredibly lucky to have been chosen for the bursary. This time last year I was sitting in my pyjamas writing stupid jokes on Twitter. I mean, I'm still doing that, but now I've also got a job at the BBC.'
Catherine Brinkworth is a presenter on Roundhouse Radio. and writer with an interest in reggae and dancehall. She has contributed to the long running BBC Radio 4 Extra series Newsjack, as well as BBC Radio 4's The News Quiz and The Now Show.
She said: 'I'm happily surprised and unbelievably thrilled to have got the bursary, it's an incredible opportunity to learn, and spend even more time eating snacks with Kat than usual".
Julia McKenzie, head of BBC Studios Radio Comedy, said: "The Radio Comedy Bursary really is an exceptional opportunity for writers to learn how to write across a variety of shows and formats and make career changing relationships with a range of producers and talent.
'There is no better way to hone your craft than to write daily and this bursary pays the writers to do just that, often to demanding deadlines.'
The award was originally named The Peter Titheradge Award in honour of the BBC Radio Light Entertainment producer who discovered Humphrey Barclay, Bill Oddie and John Cleese in a Cambridge University Footlights review, and offered them a route into comedy.
Full list of recipients:
1978: Rory McGrath, Jimmy Mulville, Guy Jenkin
1979: Rob Grant, Doug Naylor, Martin Bergman
1980: Jon Canter, Angus Deayton, Tony Sarchet
1982: James Hendrie, Eddie Canfor-Dunne, David Jackson Young
1983: John Collee, Roger Planer
1984: Jack Docherty, Moray Hunter
1985: Malcolm Williamson, Stuart Silver, Alan Whiting
1986: Stephen Punt, David Bond, Paul Hawksbee
1987: Mike Coleman, Bill Matthews, Ged Parsons, Les Peters Rowley
1988: John O'Farrell, Mark Burton
1989: Peter Kerry, Simon Bullivant, Mark Brisenden
1990: Peter Baynham, Barry Atkins
1991: Stewart Lee, Richard Herring, Robert Steele, Julian Dutton
1992: Clive Coleman, Andy Riley, Kevin Cecil
1993: Rob Colley, Paul Powell, Millie Murray, Georgia Pritchett
1994: Dan Gaster, Andrew Clifford, Debbie Barham, Hugh Rycroft
1995: Will Ing, Kay Stonham
1996: Ben Ward, Dave Lamb, Tony Roche
1997: Felix Riley, Tom Jamieson
1998: Nev Fountain, Simon Blackwell
1999-2003: Scheme not run
2004: Rhodri Crooks, Paul Kerensa
2005-2006: Scheme not run
2007: Danielle Ward, Kieron Quirke
2008: James Sherwood, Stephen Carlin
2009: Gareth Gwynn, John-Luke Roberts
2010: Jon Hunter, James Kettle
2011: Benjamin Partridge, Andy Wolton
2012: Jack Bernhardt, Tom Neenan
2013: James Bugg, Grainne Maguire
2014: Gabby Hutchinson Crouch, Max Davis
2015: Sarah Campbell, Liam Beirne
2016: Robin Morgan, Jenny Laville
2017: Laura Major, Mike Shephard
Published: 13 Dec 2018
Recent Other News
What do you think?