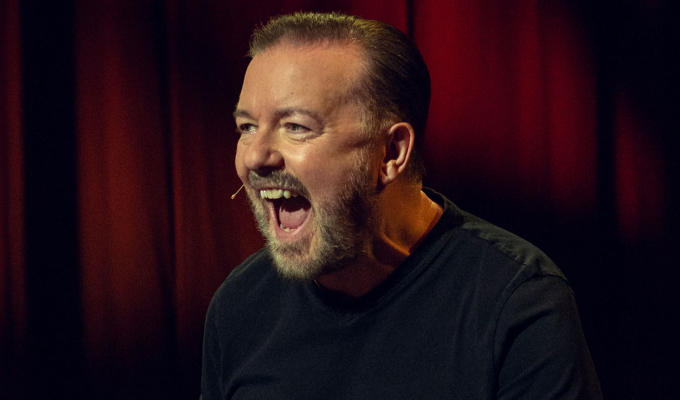 Ricky Gervais to unleash Armageddon on Christmas Day
Ricky Gervais's latest stand-up show Armageddon is to drop on Netflix on Christmas Day, the streaming service has announced.
The comic joked: 'For the next 2000 years people will remember the 25th December as the day Armageddon was released on Netflix.'
Recorded at the London Palladium earlier this year, the show features the comic talking about the end of humanity, political correctness, family weddings, funerals and artificial intelligence.
The show won Gervais a Guinness World Records for 'the highest gross for a single stand-up performance ever – netting £1.41million for his sow at the Hollywood Bowl in May.
The special was directed by John L. Spencer, who also worked on Gervais' previous shows Humanity in 2018 and SuperNature, which was one of the most-watched comedy specials on Netflix that year.
Read our review of the show at Wembley Arena here – one of 85 arena dates he has performed of Armageddon – and of an earlier performance at the New Victoria Theatre in Woking here.
In 2020 Gervais signed a reported $40million deal with Netflix, which included the third season of his comedy After Life plus an unspecified number of stand-up specials.
The comic previously said he secured the highest fee ever paid for a UK stand-up special for Humanity – although the figure was never disclosed.
Thanks for reading. If you find Chortle's coverage of the comedy scene useful or interesting, please consider supporting us with a monthly or one-off ko-fi donation.
Any money you contribute will directly fund more reviews, interviews and features – the sort of in-depth coverage that is increasingly difficult to fund from ever-squeezed advertising income, but which we think the UK's vibrant comedy scene deserves.
Published: 20 Nov 2023