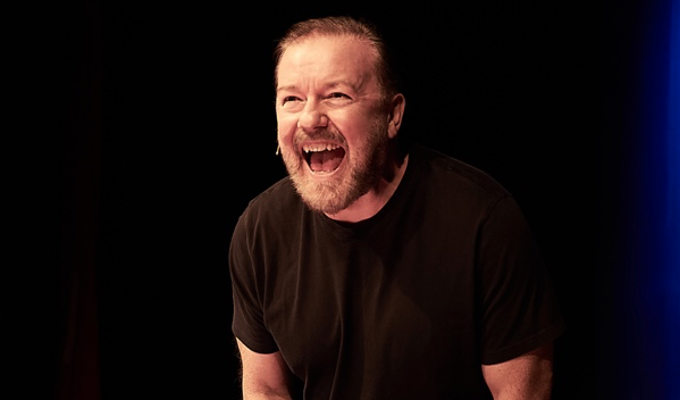 Ricky Gervais: Armageddon at Wembley Arena
Quite a popular school of thought these days is how 'you can't say anything any more'. Cancel culture, we are told, is ruining actual culture. Careers are being curtailed and freedom of speech is being choked.
Actually pretty refreshing, then, to hear Ricky Gervais start his current tour show Armageddon by quite firmly debunking the viewpoint. 'My last show, Supernature, dropped on Netflix last year, and there was a big backlash, wasn't there? The inevitable backlash made it the most-watched special of the year. I've learned my lesson.'
Any number of right-wing newspaper columnists will tell you that there's money to be made in taunting liberal sensibilities, but it's worthwhile highlighting just how profitable it is: in London alone, this latest tour from Gervais has pretty much sold out 11 nights at the Palladium, as well as three nights at the vast Wembley Arena.
The most clear-cut way to describe Armageddon is to call it Gervais's doubling-down show. He realises the whole firebrand thing is working for him and he's really decided to lean into it. There's a subtler, but arguably even more damning description you can give the show though: that Gervais has become a lazy performer who's realised he can coast his way through touring.
The material, then, is frequently bracing. It's a mode of comedy the UK scene would be significantly less rich without, as long as the ideas are also clever and carefully crafted. But time and again in Armageddon, Gervais just pulls together a fairly offensive mental image in lieu of attempting to use actual skilled comic invention. His punchline involving Greta Thunberg provides one wearying example.
When he's not operating on that familiar territory, his more straightforward observational comedy moments - involving flower arranging, say, or the difference between slugs and snails - aim for the same comic terrain as, say, Michael McIntyre, but fail to be as good as him. Highlights are surprisingly thin on the ground, but there are some: the brief section that lingers on the n-word remains inarguably bold, but is also a clever, fun observation.
If you are a fan of this incarnation of Gervais's stand-up, you may wish to instead consider Fin Taylor - another comic who, it's fair to say, dances along the line of acceptability. Taylor will tackle some of the same topics as Gervais does in Armageddon, but makes great observations and fully develops them so they result in excellent, substantially more original punchlines. Gervais either no longer has the skill, or motivation, to do the same.
It all suggests Gervais is, if nothing else, an extremely skilled businessman. If he isn't quite able to write stand-up as great as he used to, he's found a very clever way of continuing to make vast profits regardless.
On the other hand, he may have realised that the amount of effort he puts into writing his tour shows bears little relation to the resulting money he makes from them. In which case, why try harder?
He acknowledges that negative publicity only seems to make him more successful (which presumably means anybody writing anything critical about this show is part of its publicity machine. Whoops). You may have heard the phrase 'never wrestle with a pig. You both get dirty, but the pig likes it.' Maybe ignoring people who profit from making us angry is the best approach to take from now on.
• We previously reviewed the show earlier in the on tour here. Gervais is back at Wembley on Friday and in December, with other dates announced in Bristol and Brighton. Ricky ​Gervais tour dates
Review date: 16 Oct 2023
Reviewed by: Mark Muldoon
Reviewed at: Ovo Arena Wembley