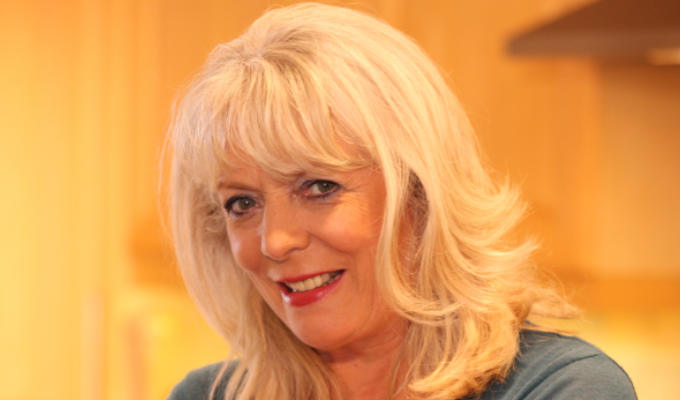 Gavin and Stacey's Alison Steadman writes her memoirs
Gavin and Stacey star Alison Steadman is writing her memoirs.
The as-yet-untitled book will be published in October next year by HarperNonFiction.
Describing the autobiography, the publishers say: 'Growing up in Liverpool as the entertainer of the family, impersonating neighbours to the delight of her friends and playing pranks on her unwitting mother (from which the poor carpet never recovered), the young Alison Steadman could never have imagined what the future had in store.
'But when she snuck off to London to audition for drama school in secret, Alison set in motion a series of events that would see her become one of the greatest character actors of the age, and a national treasure to boot.'
Steadman, 77, came to prominence in the TV plays Nuts in May and Abigail's Party in the mid-1970s, both written by her then husband, Mike Leigh. And she received Bafta nominations for The Singing Detective and Fat Friends, where she worked alongside Gavin & Stacey co-creator James Corden.
Other film appearances include A Private Function, Topsy-Turvy, The Life and Death of Peter Sellers and the 2016 reboot of Dad's Army.
Quoted in trade magazine The Bookseller, Steadman said: 'As a daft and enthusiastic 21-year-old, I eagerly rushed into the theatre bar after my first professional performance, threw my arms in the air and offered the otherwise engaged crowd my best impression of the legendary comedian Stanley Baxter's catchphrase – and this is the real me!
'Thinking about that moment recently, it struck me that I've spent over 50 years playing at being other people – girlfriends, lovers, wives, mothers and grandmothers and yet throughout the high and lows of all these other women's lives, I've managed to sustain my own two loves, my family and being an actress, and still be me, still daft and enthusiastic.'
Publisher Sarah Emsley said Steadman was a 'born raconteur who had me in fits of giggles at our first meeting,' adding that she 'is full of life, energy and fun, but she is also a leading lady of great intelligence, strength and integrity'.
Her memoir is available to preorder, priced £25.
Thanks for reading. If you find Chortle's coverage of the comedy scene useful or interesting, please consider supporting us with a monthly or one-off ko-fi donation.
Any money you contribute will directly fund more reviews, interviews and features – the sort of in-depth coverage that is increasingly difficult to fund from ever-squeezed advertising income, but which we think the UK's vibrant comedy scene deserves.
Published: 17 Nov 2023