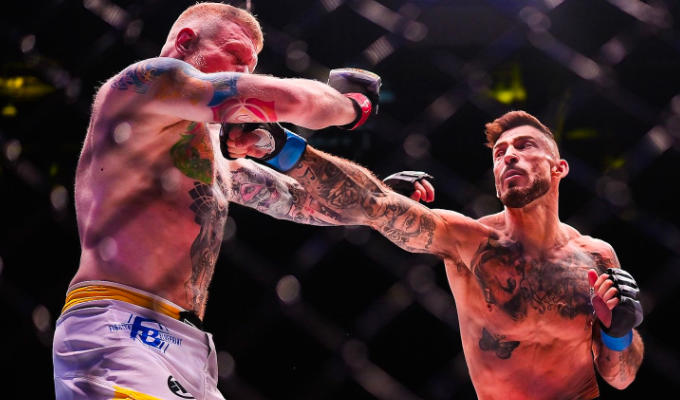 Paul Smith loses in his MMA debut
Liverpudlian stand-up Paul Smith has lost his first professional MMA fight, with reality TV star Jake Quickenden defeating him in the first round.
Both fighters were making their debut in the sport in an event at the AO Arena in Manchester, promoted by Oktagon MMA.
Here's the moment it ended:
Never thought I'd watch Jake Quickenden knocking out Paul Smith but, here we are.

Fair fucks to Paul for stepping up and getting into the Octagon regardless pic.twitter.com/tlYDRguePn

— JimTheWanderer (@JimTheWanderer1) November 4, 2023
The company tweeted the result, then added: 'Both men totally dedicated themselves to the sport for a year and have gained everyone's endless respect.'
One fan responded: 'Well done both! Never a doubt but Paul looked good.'
At 35, Quickenden – a two-time X Factor contestant and runner-up in the 2014 series 14 of I'm A Celebrity...Get Me Out Of Here – is six years Smith's junior.
Even before the welterweight showdown, Smith said he would not be returning to the octagon after tonight's clash
He said: 'I am 100 per cent saying I am not going to carry on fighting, but I will definitely continue training.
'I travel a lot… and to do that is fantastic, but sometimes it can get a bit lonely. These gyms are like families and they really welcome you into these places and show you the love. It's been a real eye-opener for me.
'I will continue to do jiu-jitsu…. black belt is the next challenge for me because I have thoroughly enjoyed it and it will be fun going in and putting on a show. I just hope we don't look completely out of place on the card with all these pro guys.'
Smith also said the training has done wonders for his physique, as these before and after pictures show.
He joked: 'No one is heckling me anymore, everyone is scared!
'But to be honest, being on the road and travelling is such an up and down experience. I relied a lot on drinking and other things to keep me going. Trying to find that gig high and trying to chase it.
'If I'm really honest, I was in a bad place when I started this. Having the routine and the discipline to keep me level-headed and keep my mental health clean has been a godsend.
'I'm 41 years old, I was a fat comedian and today I'm a comedian in a good shape so I would recommend it to anyone.'
Both fighters' gruelling training in the build-up to their clash has been documented in a series available to view via Channel 4 and YouTube called Stage To The Cage.
» Read more about Smith's experiences with MMA
Published: 4 Nov 2023