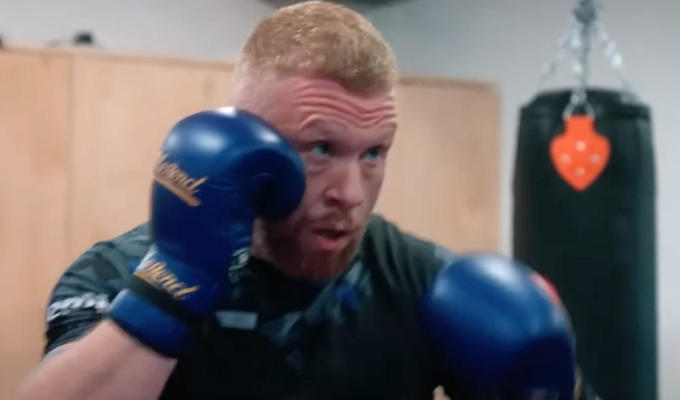 'The threat of being punched in the face repeatedly is a good motivator'
Paul Smith is making his professional debut in mixed martial arts on Saturday.
The Liverpudlian comedian will be stepping into the cage with reality TV star Jake Quickenden – a two-time X Factor contestant and runner-up in the 2014 series 14 of I'm a Celebrity...Get Me Out of Here – at Manchester's AO Arena.
His gruelling training for the welterweight clash – being staged by Oktagon MMA – has been documented in a series available to view via Channel 4 called Stage To The Cage.
Tickets to the fight – part of a full evening's fightcard – are still available here, and it's also being streamed as a pay-per view event (details)
Here, Smith talks exclusively about his gruelling training
---
On sparring
We've been doing at least one to two hard sparring sessions a week. When I first started doing them I was terrified. And the first hard spar I did - I swear it felt like I was drowning. It was just so bad.
Because I'm prepping for a fight, we'll do a five-minute round. Then we'll have a minute rest, then I'll get a fresh partner. So I'm getting a fresh body each time. So I'm knackered and I'm fighting a completely fresh person.
By the third or fourth round in, you can barely hold your hands up, and you just get punched everywhere. It's then being able to cope with that helplessness and still listen to the coach.
Just being able to pull any [attack] in those rounds is a massive victory. And as the weeks have progressed. I've gone from dread to kind of actually - not enjoying it - but not dreading it. I'm managing to hold my own now. it's a real baptism of fire.
How he feels ahead of Saturday's fight
It's a cocktail of emotions. I'm nervous about it. I'm scared. I'm excited. But I feel prepared for it, which is a weird thing to say.
The threat of being punched in the face repeatedly is a good motivator to prepare properly and it's been a tough year.
Part of me is feeling scared - it's a fight and he's a big athletic, strong looking guy, so obviously going to be a tough 15 minutes. But the rounds I'm doing in the gym, I'm thinking [the fight] will be an easy week for me. I'm kind of excited and then I can get fat again.
On his mental attitude
I had a good chat with a guy called Liam Harrison, who's a very famous Muay Thai fighter. And he said 'every time you run through that fight in your head it's going to go differently depending on what day you're having.'
Some days I think I'm going to walk out and he's going to throw a head kick and just knock me out. Some days I think I'm going to walk out and he's going to cower down and I'm going to grapple him against the fence and take him to the ground and just ragdoll him everywhere. Some days it's a spinning back fist or some Batman punch.
[But] if you've imagined it going a certain way and something goes wrong you're just going flap because you go 'Oh, this isn't the way I've imagined this.'
So what I've been trying to do is what I got told to do - visualise getting tapped off, the ref tapping your back. You've won the fight. Running off. That's what I'm trying to visualise. I'm trying to just visualise that victory moment where I've got one hand in the air, getting my hand raised and just been focusing on that.
It's impossible to know what's going to happen in a fight. It's weird because I know Jake's tall, he's big, rangey, he's boxed before, so I imagine he's going to strike, but he might be a phenomenal grappler. I don't know. I just don't know.
We have a game plan and I'm sure he has a game plan. My focus is going to be staying calm, listening to my coach, and just trying to react in the moment as best I can, and just win.
I really want to win, I am very competitive. I wouldn't lie about that. But beyond that I just want it to be a good fight. I want to show that we have put this work in. I don't want to disparage anyone but it's not going to be like some of the recent celebrity fights. They're a joke.
They're embarrassing some of them - not all of them - but some of them. I know we've both put a lot of work into this, so I want it to look like we're not complete beginners. And we have got skills and we have learned certain things over the last year, and I want it to be a competitive and entertaining fight. If it's competitive and entertaining and I've lost - I've got caught with something - I'll be happy with that. I think I'll be able to live with that. Ideally, though I just walk out and smash his fucking head in.
If you've never been to an Oktagon show. I wasn't prepared for how well produced they are. They are up there alongside the UFC If not better. I've been to two now and they were phenomenal. This is night and day [from recent celebrity fights]. This is not a circus. This is not loads of people jumping in the ring doing silly stuff.
It's real MMA, real professionals doing real fighting, there's not going to be any star jumps.
Training while on tour
I've been training six times a week, every week, so obviously, when I'm traveling around, I've been really lucky in that I've been able to find really nice people that have let me jump in their gyms and that's always nerve-racking because you get in there you don't know anyone.
But what I found almost universally is that people who in MMA are the friendliest people ever. They're really open to new people. They're open to beginners. There's no egos in these places, really, where you imagine it to be the complete opposite.
So you go in and no one's trying to take your head off. You can get some grappling or some ​wrestling done. Explain where you are and people are just eager to help.
It's just been great training with these amazing people and them looking after me. I've been quite lucky to be able to do that. It's tough. You're traveling a lot, you're on the road a lot, and you have to fit these sessions in. And you stay in hotels, and It's not the easiest thing to do.
There's been a lot of fanboy moments as a fan of MMA. When I was training in the gym, Dan Hardy walked in and [John Kavanagh], all of them. I remember watching Hardy fight George Saint Pierre, so it was crazy just having a little chat with them and stuff.
The threat of being punched in the face repeatedly is a good motivator
On how comedy has helped him prepare…
My coach put me into a grappling competition just to give me a taste of live competition and it was a great experience. I was nervous, I'll be honest with you, I was really nervous, I didn't really sleep tonight before. I arrived and I saw the guy I was going to be grappling against. I thought 'he looks angry, big, strong'.
All of those thoughts went through my mind. I was watching a couple of the other fights and a couple of fights before mine, my coach said 'go warm up now' and as soon as that happened I kind of went into gig mode.
It surprised me that my head did what it did because I kind of just switched into what I would normally do for the show, because I'm used to performing in front of this many people. I play in front of thousands of people every night pretty much, so my body just kind of warmed up in the way it does for a show.
I'm good at dealing with anxiety. I'm good at dealing with performing in front of people. I'm good at shutting that out. My body is really good at dealing with fight or flight. Even pro fighters have to deal with that once or twice a year.
I put myself in fight or flight four, five, six times a week. I have to stand there and deal with it. I can't run or hide.
Walking out on fight night, and the whole spectacle of it, that's not going to overwhelm me or bother me at all. I don't think performing in front of an arena is going to bother me at all. I'll be able to tune in and listen to my coach, Tom.
I think Jake's going to be exactly the same though because he performs all the time as well. We are both entertainers and performers and I think people are going to be surprised how competitive the fight will be I hope.
Win or lose, he seems like a really good guy. I know if he's put himself through what I've been, I've got nothing but respect for him. And I think he has. He looks in great shape, so I think people are going to be surprised at how good the fight is going to be.
Thanks for reading. If you find Chortle's coverage of the comedy scene useful or interesting, please consider supporting us with a monthly or one-off ko-fi donation.
Any money you contribute will directly fund more reviews, interviews and features – the sort of in-depth coverage that is increasingly difficult to fund from ever-squeezed advertising income, but which we think the UK's vibrant comedy scene deserves.
Published: 1 Nov 2023