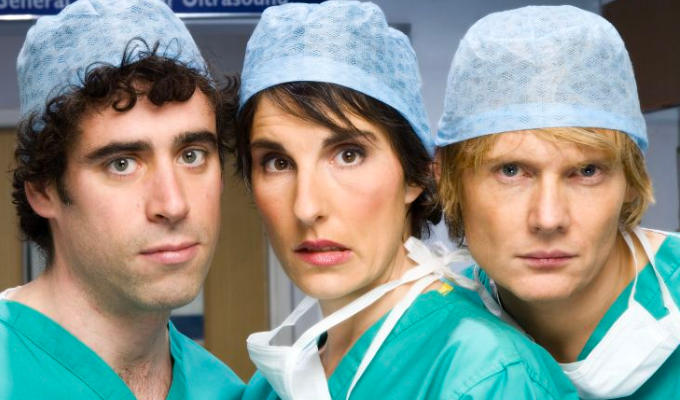 Green Wing 'to return as a podcast'
Cult Channel 4 hospital comedy Green Wing is set to be revived as a podcast, creator Victoria Pile has said.
Original stars Tamsin Greig and Stephen Mangan are said to be involved in the new project.
Speaking on Radio 4's What's Funny About… the writer said the show came to end after two series because of the difficulties in securing the star cast.
She said that by the end of the run in 2007 'they were all beginning to have — or already had — such fantastic careers', explaining: 'Everyone was moving off in different directions and it was becoming a logistical nightmare getting everyone in the same place at the same time with so big a cast.'
Pile told presenters Peter Fincham and Jon Plowman she originally said no when was approached during lockdown about a potential audio revival – but had gradually come to change her mind.
'Something that was asked of us in lockdown was to potentially write a podcast version, and there was a huge long debate about what that might be. I think they wanted a spin-off or something like that
'I'd resisted for ages and thought, "No, we have such joyous memories of what it was, and there's nowhere we can go again".
'But they chipped away and we're now done potentially revived group. So we think we're going to record a podcast which is essentially a continuation of where we were. Obviously, that poses quite a lot of narrative challenges.'
The final episode depicted Caroline Todd (played by Greig) becoming engaged to Guy Secretan (Mangan), Mac Macartney (Julian Rhind-Tutt) learning that he was going to die, Alan Statham (Mark Heap) and Joanna Clore (Pippa Haywood) fleeing from the police.
Elsewhere in the Radio 4 programme, Pile said she might have to modify the comedy's sensibilities for today's audiences – especially the sexism they mocked.
She said: 'There had been an awful lot of righteous, PC stuff and we were reclaiming our freedom to be able to make jokes.
'The misogyny was permissible because we clearly called the characters out all the time. The difference now is that you can't present such characters, even though they do exist.'
The original episodes are available to stream for free on Channel 4.
Thanks for reading. If you find Chortle's coverage of the comedy scene useful or interesting, please consider supporting us with a monthly or one-off ko-fi donation.
Any money you contribute will directly fund more reviews, interviews and features – the sort of in-depth coverage that is increasingly difficult to fund from ever-squeezed advertising income, but which we think the UK's vibrant comedy scene deserves.
Published: 2 Oct 2023