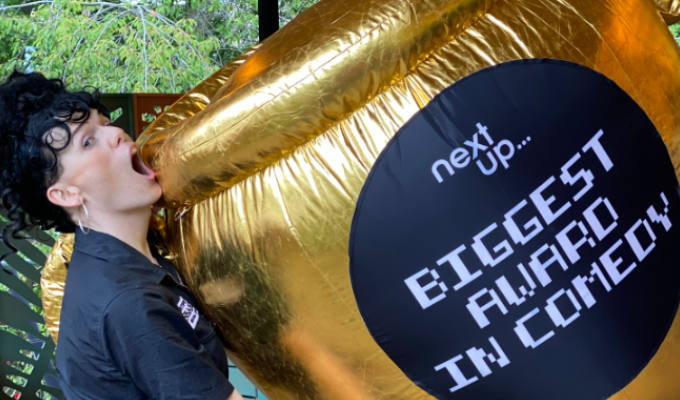 'Biggest award in comedy' announces its nominees
Twenty nominees have been announced for the biggest award in comedy.
NextUp awards a two-metre inflatable trophy to the Edinburgh Fringe show chosen to be the best by its audience and a panel of judges from the streaming service.
And last night it was announced that Richard Herring's Leicester Square Theatre podcast have agreed to put up £500 prize money for the winner.
The nominees are:
Chloe Petts: If you Can't Say Anything Nice
Reuben Kaye: The ​Butch is Back
Anna Piper Scott: Such an Inspiration
Paul Foot: Dissolve
Lorna Rose Treen: Skin Pigeon
Lindsey Santoro: Pink Tinge
Tom Lawrinson: Hubba Hubba
Daniel Foxx: Villain
Ikechukwu Ufomadu: Amusements
Louise Young: Feral
Krystal Evans: The Hottest Girl at Burn Camp
Sian Davies: This Charming Man
Louise Atkinson: Mates
Kieran Hodgson: Big In Scotland
Ian Smith: Crushing
Milo Edwards: Sentimental
Paul Sinha: Pauly Bengali
Larry Owens: Larry Owens Live
Gillian Cosgriff: Actually, Good
Bill O'Neill: The Amazing Banana Brothers
The news comes hours after the ISH Edinburgh Comedy Awards, set up when it looked as if the original Fringe accolades would not be going ahead, released their longlists containing more than 50 names.
NextUp's Daniel Berg said: 'Our members love discovering and highlighting live comedy, and when they speak - my God we listen. They've voted and helped shape this impressive list of nominees and soon, one of the acts will be the lucky recipient of one of the biggest and most physically burdensome awards on the planet.'
Herring added: 'RHLSTP has managed to do the Edinburgh Fringe remotely this year, so we are delighted to offer a fraction of what our accommodation would have cost to help pay a fraction of the costs of one brilliant performer's accommodation. That'll teach the greedy landlords! Somehow.'
Last year the cumbersome award was won by Jordan Gray – and this year's prize is 1cm bigger.
NextUp members can continue to vote for the nominees until August 24 at nextupcomedy.com/bigaward. The winner will be announced the following day.
NextUp are live-streaming more than 50 shows from the Fringe this month. Click here for more information.
Published: 14 Aug 2023