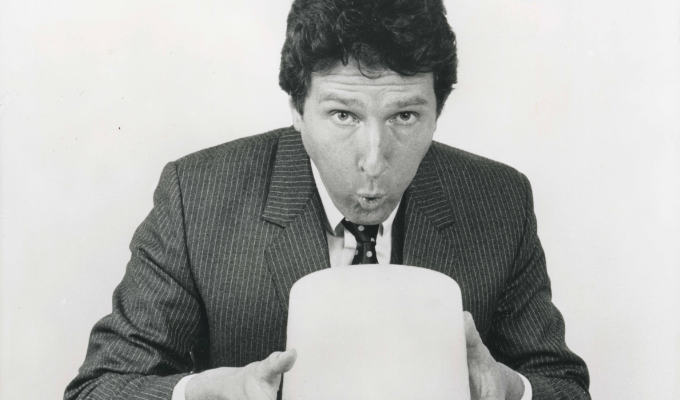 The Iceman gets exposure
Alternative comedy legend The Iceman has been immortalised in a new book.
The performer, real name Anthony Irvine, was a regular on the comedy circuit in the 1980s and 1990s with an act that involved melting blocks of ice in a variety of ways – including salt or a blowtorch – while delivering corny jokes to the audience.
Shrek star Mike Myers has cited the Iceman as one of his all-time comedy favourites; Bill Bailey describes him as 'a legend' and Jo Brand describes him as 'a true performance artist'.
He played Malcolm Hardee's Tunnel Palladium, Simon Munnery's Cluub Zarathustra, and Ivor Dembina's Red Rose Club as well as being a regular at the Edinburgh Fringe.
Now comedy historian Robert Wringham has compiled an extended pictorial interview with Irvine, entitled Melt It! The Book of the Iceman, which is published today by indie label Go Faster Stripe.
The author says: 'I wrote a book about Cluub Zarathustra ten years ago. Everyone I interviewed remembered the Iceman but I couldn't find him. Like so many other fringe acts, he was simply gone.
'When [alternative comedy blogger] John Fleming put me in touch with Anthony, I suggested my book idea. We spent a day together at Battersea Arts Centre where I grilled him to see what made the Iceman tick.'
The book features a foreword by Munnery and an afterword by Stewart Lee, who says: 'I am so glad this book exists ... another of Wringham's essential mini-masterpieces.'
Alongside the interview, Wringham, who calls the book 'an alt-alt comedy history bonanza' presents 56 Polaroid photographs of Irvine's 1990s ice block.
Chris Evans of Go Faster Stripe said of the 168-page title: 'It's right up my street. And if it's something I'd like to read, hopefully there's more people like me'
Stand-up turned comedy historian Oliver Double says: 'I've long known about the legend of the Iceman, but I'm sorry to say I've never seen his act nor shared a bill with him on the circuit.
'As a teacher, I'm keen to give examples of speciality acts so I'm always scouring for stuff about the Iceman. This book sounds brilliant.'
Melt It! The Book of the Iceman is available from Go Faster Stripe, priced £15 for a physical copy or £5 as a download.
Published: 19 Jan 2023