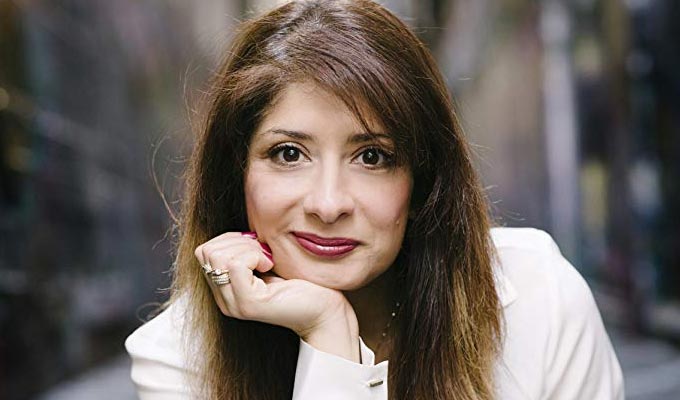 Shaparak Khorsandi quits touring to spend more time with her family
Shaparak Khorsandi has pulled her autumn tour to spend more time with her family.
She says she is quitting touring 'for a good while' to enjoy time with her 14-year-old son and nine-year-old daughter.
All but five of the forthcoming dates for her show It Was The 1990s – which she has been touring for a year – have been axed .
She wrote on Facebook: 'After 20 years of dashing all over the country, I hit a wall. I love stand up (I'm getting better at it!) I will never lose the joy of seeing people choosing to spend an hour or two with me, but being away from home was agony. That sounds a bit dramatic, I know, but it's true.
'I won't bore you with the nuts and bolts but I just wasn't seeing enough of my children and I couldn't handle it anymore. My son is 14 and my daughter is 9 and it goes FAST! I want to be there for summer fetes and I don't want to miss bedtimes. She's not going to want me to read to her forever… right now she loves it and I want to make the most of it.
'At 14, my son has his own world with his friends and school, but he needs me there when he pads downstairs to raid the biscuit tin or when he wants to tell me something he's thinking about. It's always something smart and quirky and funny.'
She added: 'Cancelling a tour when so many people had worked hard to sort it...the theatres, PR folk and producers...and knowing so people had bought tickets and planned is horrible. I never thought I would cancel one show let alone a whole tour, but I was going mad. I don't use this word flippantly.
'I'll be performing at festivals and all the other stuff...but no more touring. For now.'
Elsewhere on social media she added that the show will be recorded for release.
Khorsandi shares her son with his father, fellow comic Christian Reilly, to whom she was married from 2005 to 2011, but has no contact with her daughter's father. Khorsandi is now in a relationship with stand-up Mark Steel.
In It Was The 1990s, Khorsandi reflected on 'ladette' culture – and how she embraced it in her youth, concluding that '90s kids now look to young people to learn how to take care of ourselves'.
For most of her career, Khorsandi performed under her nickname Shappi, but reclaimed her full Persian name last year. At the time she told ITV: 'I'm really happy for people to call me Shappi still, but I changed my name to Shappi because people found pronouncing Shaparak so hard. And also I was teased SO much at school about my name.
'But I was really inspired when Thandiwe Newton reclaimed her "w" and people like [England footballer] Bukayo Saka - they don't shorten their name, he's not Bob Saka. So I thought I want to reclaim my original name.'
Published: 4 Jul 2022
Recent News
What do you think?