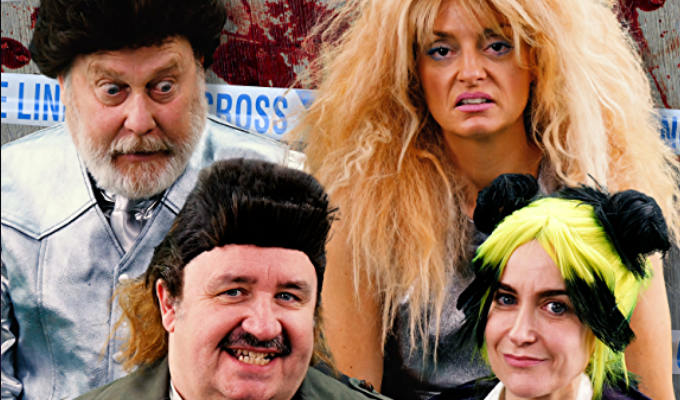 Vic Reeves and Morgana Robinson reunite in new sitcom
Vic Reeves and Morgana Robinson are starring in a new audio sitcom about crime-solving hairdressers.
The pair – who previously co-starred on the BBC Two comedy House of Fools co-star Morgana Robinson to star as a couple of hairdressers – and amateur detectives – in Curl Up & D.I.
It has been written by Tony Pitts, who played Archie Brooks in Emmerdale for a decade and now presents the Three Little Words podcast with his pal John Bishop. Pitts, who also narrates the new show, has called it 'a rambling, shambolic tumble dryer of a sitcom'.
The cast also includes comedy stalwart Kevin Eldon, Reeves's wife Nancy Sorrell, Shakespeare & Hathaway star Mark Benton and Katherine Kelly, recently seen in Bloods. Reeves is billed under his real name, Jim Moir.
Curl Up & D.I. is being released as a podcast, with the first two episodes just released.
According to the blurb, 'Gemma and Andy are two feckless coppers patrolling the mean streets of Slatby, a faded North Yorkshire seaside town with an unsolved murder problem.
'With conventional leads exhausted, local hairstylists, gossipmongers and armchair crime-solvers Yacky and Reuben are enlisted, and their Salon unwittingly and illegally becomes the beating heart of all ongoing detective operations. Welcome to the murky hinterlands of soft perms and slaughter.'
Listen on Apple Podcasts here.
Hairdresser. Inventor. Sleuth. Icon.

Get ready to be tongued from afar by @JamesMoir10 pic.twitter.com/DpZ0iRECx6

— Curl Up & D.I. (@CurlUpDI) June 30, 2022
Published: 2 Jul 2022
Recent News
What do you think?