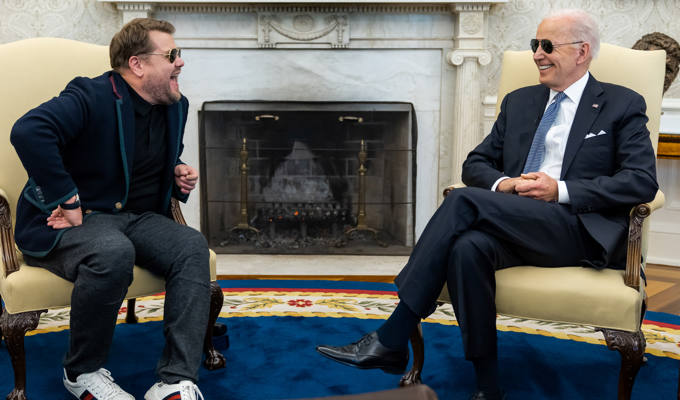 Joe Biden appears on James Corden's Late Late Show
Joe Biden is to make an appearance on James Corden's US chat show.
The encounter comes for the Take A Break segment of The Late Late Show in which the comic takes over someone's job for a while.
He wasn't allowed the nuclear codes but instead filled in for the President's assistant.
The footage will air during a special week of shows to be broadcast from Freemasons' Hall in London.
Other guests appearing in the show, from June 28 to July 1 include Vin Diesel, Jamie Dornan Billie Eilish, Ed Sheeran, John Boyega, David Harbour, Alanis Morissette, Sam Smith and Tessa Thompson.
And Lizzo will be taking part in the hit Carpool Karaoke segment.
This will be the fourth time the CBS show will be filmed in London, and the first since the Covid pandemic.
In April Corden announced that he would be quitting the show next summer, prompting reports he is preparing to return to Britain.
He told his studio audience at the time: 'When I started this journey, it was always going to be just that — it was going to be a journey, an adventure. I never saw it as my final destination, and I never want this show to overstay its welcome
'We are going to go out with a bang … they'll be tears, so many tears, 'cause this has been the hardest decision I've ever had to make. I never took this for granted, ever'
The Late Late Show With James Corden airs on Sky Comedy and streaming service Now in the UK.
Published: 23 Jun 2022
Recent News
What do you think?