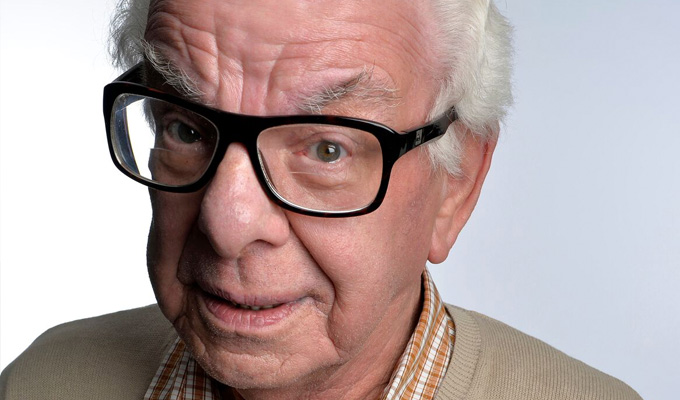 Goodbye Baz: how stars celebrated the life of Barry Cryer
Friends, fans and family of Barry Cryer gathered in London's West End last night to remember the great gagsmith at a star-studded memorial gig.
The event at the Lyric Theatre was put together by the comedian's son Bob, who told the audience: 'If the funeral was thinking about what we lost, then tonight was about celebrating what we had.
'This is how we keep people alive by telling stories about them– and Barry was the best at telling stories.'
Stars shared anecdotes and old gags, while some comics paid by performing their own acts, including Harry Hill, Pierre Hollins and John Moloney – the latter repeating a routine about his cat he had performed for Barry's 80th birthday. Cryer's long-term collaborator Ronnie Golden provided the music, save for a couple of songs performed by Barry's daughter, Jack, who also read a poetic eulogy by comic John Dowie.
Many A-listers appeared on video, starting with Stephen Fry, confined to quarters because of Covid, who paid tribute to Barry's generosity of spirit. It was to become a recurring theme over the ensuing three-and-a-bit hours.
'Comics are to a large extent awful,' Fry said. 'Resentful, bitter and sharp-elbowed. But I realise there was one man I knew who was always respectful of new talent in comedy – always – and that was Barry.'
He pointed out that Cryer 'saw all comedy as one', making no distinction between the alternative comics of the 1980s and bygone music hall acts, unlike many of his generation who dismissed the young. That broadness of taste was reflected in a bill that ranged from Stewart Lee to Pauline Daniels, who came up though the working men's club circuit.
Fry also kicked off the anecdotes, sharing a story of when Cryer was a co-writer on the Kenny Everett TV show and executive Bill Cotton Jr finally twigged that the name of his outrageous American actress character, Cupid Stunt, was a crude spoonerism.
Cotton collared Cryer and insisted they change the name, which they did. To Mary Hinge. After the change, Cotton told Cryer 'See? You don't have to be disgusting to get a laugh.'
Fry also set the ball rolling by sharing a gag Barry had told him involving a parrot – of course. It became a running joke of the night that each celebrity, whether in person or on video, affectionately recalled Cryer ringing them up on their birthday to tell them a gag.
In an unfortunate coincidence, three people managed to repeat the same shaggy dog story about a woman reading a Bible on a train: Rebecca Front on stage in the first half, Barry Humphries in the second and Stephen Merchant on video.
Others who appeared on the screen included Miriam Margolyes, Colin Sell, Jools Holland, Count Arthur Strong, Jack Dee and Judi Dench, who said Cryer's death in January, at the age of 86, felt as if 'a large piece of Yorkshire had fallen into the sea.'
Even Cryer paid tribute to himself, courtesy of an old clip from Radio 4's Broadcasting House that asked him to provide his own obituary, an affectionate nod to the fact he was the go-to guy for a comment whenever a beloved comedian passed away.
In other recordings. Emma Thompson and Greg Wise, reimagined All That Jazz as All That Baz while Eric Idle said Barry had 'guided me and mentored me' in his early days, and recalled how he would do the studio warm-ups for Monty Python and had the audience doubled in them in laugher 'and then they fell silent as we performed our sketches'.
Sandi Toksvig recalled his non-stop patter on trips back from recordings of I'm Sorry I Haven't A Clue, saying: 'I learned more about timing on one train journey with Barry than from any other comic.'
Eddie Izzard appeared both on screen and on stage, rather oddly standing idly by to watch the tribute recorded when she didn't think she was going to be able to make it.
Also in person, Arthur Smith told the audience: 'What can you say about Barry that hasn't been said before? That he was just a quiet bloke, was no very funny, was a brilliant ballerina and everyone hated him.'
Milton Jones also paid tribute to Barry's generosity of spirit. After regaling the audience with many of his own offbeat one-liners, the stand-up said Cryer was a rarity among comedians because 'he laughed at jokes that weren't even written by him.' Then deadpanned: 'I wish he was here now…'
Lee affectionately mocked the recurring theme of the birthday phone calls, suggesting they were an onerous chore that Barry hated, as well as imagining a decades-long feud with Gyles Brandreth over some hedge trimmers.
Back in reality he recalled an encounter with the comedy godfather at the Edinburgh Fringe in 2006, when Lee was performing his show 90s Comedian, an angry diatribe against the religious censorship that had cancelled Jerry Springer: The Opera that ended with the most offensive image he could think of: himself 'vomiting into the gaping anus of Jesus'.
Lee recalls Cryer casting him disapproving glances across the performers' bar one night until, in his drunken state, he went over to the silver-haired star to see what his problem was. 'I'm cross with you,' said the usually avuncular Cryer. 'Forstreeling my material.'
'How was I to know he had written the same routine for Morecambe and Wise 30 years earlier,' Lee joked.
Barry Humphries recalled a meeting with his namesake and Mick Jagger, in which – with typical Australian bluntness - drew attention to the singer's crow's feed. 'They are not crow's feet, they're laugh lines,' the Rolling Stone insisted. To which Cryer responded: 'Nothing's that funny.'
Brandreth offered a comic reworking of Christmas Day In The Workhouse, the dramatic monologue written by his great-great-great uncle, George R. Sims – before hailing Cryer as 'a lovely man with a generous nature, and a a person that when you met him was always genuinely pleased to see you, a great human being'.
Back on video, Ross Noble praised his constant joke-telling, adding: 'With him, it wasn't ego, it was all about the passing on of the joke.'
And he summed up the sentiment of the night when he recalled of Barry: 'I never heard him say a bad word about anyone and I never heard anyone say a bad word about him.'
- by Steve Bennett
---
Just a few of the old gags getting another airing…
A man goes into a doctor and the doctor tells him: 'Yu're going to have to stop masturbating.' 'Why?' the man asked. 'Because I'm trying to examine you.' (via Arthur Smith)
Another man goes into the doctor and says: 'Doctor, I can't pronounce my Fs, and THs.' The doctor replies: 'Well you can't say fairer than that then' (via Arthur Smith)
A man goes into a pet show and asks 'how much are your wasps?' The owner replies: 'We don't sell any wasps.' 'Well,' says the customer. 'You've got one in your window.' (via Ronnie Golden)
This man's wife is in the bathroom trying on a new dress. She comes out and says to her husband: 'Does my bum look big in this?' He says: 'Oh be fair, love, it is quite a small bathroom.' (via Ronnie Golden)
A man shoots a golden eagle, a protected species, and ends up before the magistrate. 'I'm so sorry. I didn't mean to shoot it,' he says. 'It just flew into my sights and I shot it by instinct'. 'Well, what did you do with it afterwards?' asked the magistrate. 'I ate it,' he said. 'It seemed the only way to honour such a majestic animal 'You ate it!' said the magistrate. 'What did it taste like?' 'Rather like swan,' he said. (via Jack Dee)
And a short version of the gag that was told three times:
A young man sits down on a train opposite a sweet old lady (or possibly a nun). Once the train is under way, the old woman brings a Bible out of her bag and starts reading it. But when the train gets into the next station the young man notices that she puts the Bible away. And then when the train gets going she brings the bible out and carries on reading. She repeats this between every station and eventually the man has to ask: 'Excuse me, I've noticed that whenever the train is in a station you put your Bible away, but once the train starts up again you bring the Bible back out and carry on reading. I have to ask, is there some reason for this?' To which the old woman replies, 'Why don't you just fuck off.'
Published: 14 Jun 2022
What do you think?