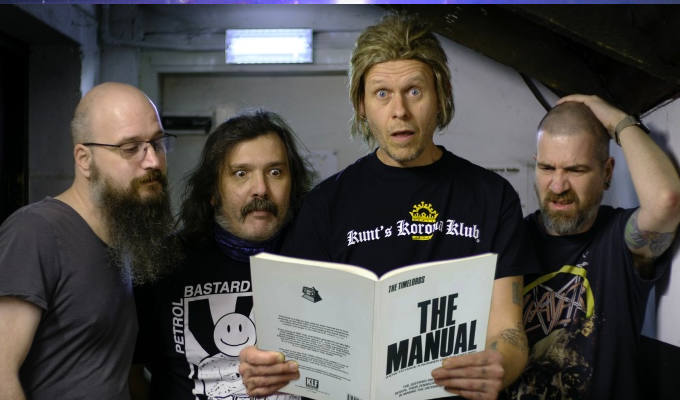 Kunts' Prince Andrew single outsells all others
Prince Andrew Is A Sweaty Nonce has been the best-selling single of the past seven days.
But the track from comedy punk band The Kunts only made No 20 in the official charts after plays on radio and streaming services were taken into consideration too.
The sales figures are a notable achievement for a track that can never get any radio airplay – but the song failed to match the band's success with the even more blunt Boris Johnson Is A Fucking Cunt, which made No 5 at both Christmas 2020 and 2021.
Writing on Facebook, lead singer Kunt, who never reveals his real name, said: 'Number 20 in the Official Charts! Shenanigans. Best selling single of the week, though. Prince Andrew is a Sweaty Nonce takes its place in the history books.'
The song outsold Kate Bush's 1985 track Running Up That Hill – which has made a re-entry after featuring in the Netflix series Stranger Things. Meanwhile the full chart is dominated by Harry Styles, who has three songs in the top 10 including chart-topper As It Was.
Kunt had been campaigning to make No2 in the charts as he reckoned the figures would be rigged to keep his song off the top slot even if it outsold all competitors. In 1977, the charts changed the way they counted sales in Silver Jubilee week, which kept Sex Pistols' God Save The Queen off No1.
The band's promotional activities suffered a blow when they were banned from YouTube just days before the official video for the track was due to drop.
Kunt started on the comedy circuit in 2003 under the name Kunt & The Gang, and in 2019 formed the band alongside Carsehole on guitar, plus twin brothers Rubber Johnny and Fucksticks on bass and drums respectively.
Their latest song starts with the lyrics: 'The grand old Duke of York / He said he didn't sweat / So why did he pay 12 million quid / To a girl he'd never met?'
Published: 4 Jun 2022