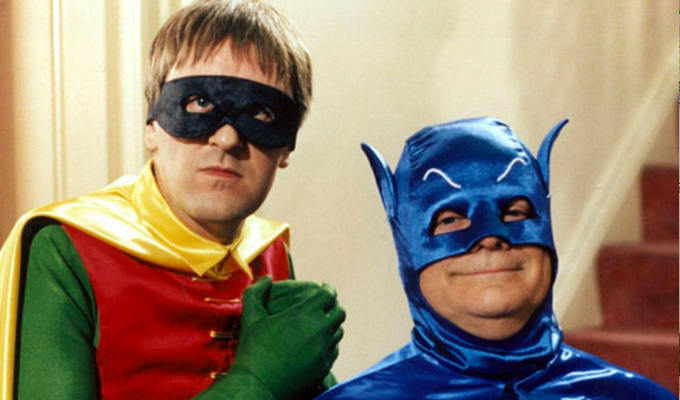 Only Fools And Horses is Britain's favourite ever BBC show
Half of the best-loved BBC programmes of all time are comedies, a new poll has found.
Only Fools And Horses topped the survey of viewers of The One Show to mark the Corporation's 100th birthday.
And although a relatively small segment of BBC output, comedy represents ten of the top 20 shows – including Gavin and Stacey at No 6; Fawlty Towers at 7 and Blackadder at 8.
Del Boy star David Jason said: 'I am delighted that Only Fools and Horses seems to be as popular as ever and that The One Show viewers have enjoyed it over the years.
' It was such a great show to be a part of and I am pleased it has given so many laughs and continues to do so to this day. From the brilliant writing of John Sullivan all the way down to the entire team in front of and behind the camera, let's just say luvvly jubbly.'
The One Show asked a panel of experts to compile a shortlist of 50 for viewers to vote on. The top 20 they chose are:
The BBC's most loved 20 television programmes, as voted for by The One Show viewers, are:
Only Fools and Horses
Doctor Who
Strictly Come Dancing
Line of Duty
Call The Midwife
Gavin and Stacey
Fawlty Towers
Blackadder
Morecambe and Wise Show
The Vicar of Dibley
Dad's Army
Planet Earth I and II
Killing Eve
Dinnerladies
Yes Minister / Yes Prime Minister
Sherlock
The Good Life
Top of the Pops
The Royle Family
Blue Peter
Yesterday, Only Fools And Horses star Patrick Murray, who played Mickey Pearce, said a remake of the show would be ruined by the 'ridiculous woke thing' that would even have BBC executives ban the word 'plonker'. The is no remake in the works for broadcasts chiefs to make such rulings about, but the 'story' still made the front page of The Sun and was widely picked up by other media.
Revealing the top 20 last night, One Show presenter Alex Jones says: 'It's been a joy to look back and celebrate some classic TV shows from the BBC's history.
'There's been an absolutely huge response from our lovely viewers and though we couldn't fit everything onto the list, our viewers have shown so much love for these classic shows that have connected with them across generations.'
Published: 29 Jan 2022
Recent News
What do you think?