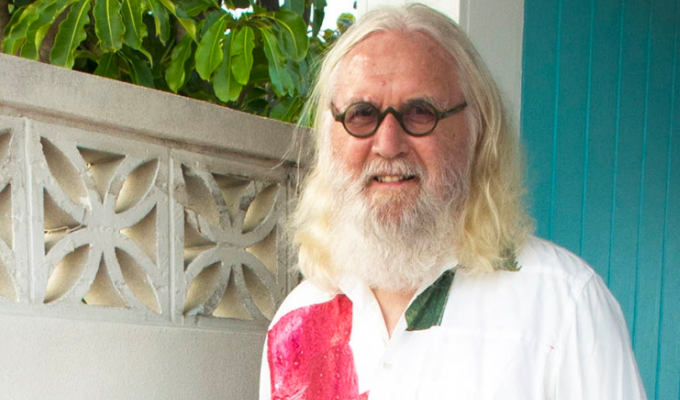 Billy Connolly cleared over dead cat joke
Sir Billy Connolly has been cleared by TV watchdogs after animal-lovers complained about a joke he told about a cat being run over by a car.
Regulator Ofcom decided not to follow up after two viewers contacted them with concerns the gag broke broadcasting rules on animal welfare.
Connolly retold the story – which actor Liam Neeson originally told him as a sad tale – on the documentary Billy Connolly: An Absolute Pleasure, which aired on ITV over Christmas,
The anecdote involved a crew member on the 1995 film Rob Roy who accidentally hit a cat while driving a van through the Highlands.
Shocked, the driver gets out and sees the animal twitching in the gutter, so goes to the back of the van and gets a hammer and puts it out of its misery.
A distraught woman comes running out of the cottage, absolutely furious at the man for killing her pet.
'It was in absolute agony,' the driver explains, adding that his action were horrible, but humane.
The owner's having none of it and calls on her next-door neighbour, a policeman, comes out to complains that the 'maniac' killed the cat for no reason at all.
As the driver describes what happens, and again expresses his regret, the officer, checks the scene. He sees the skid marks on the road that confirms the story, the effects of the impact on the van and then – on the rear wheel – a dead cat.
Connolly said: 'It's very encouraging that you can take reality and dress it up and make people fall about laughing. Shock is an intrinsic part of comedy. The shock of the punchline from nowhere just gets people, they love it.'
An Ofcom spokesperson said'After careful assessment, Ofcom has decided not to pursue the complaints because they did not raise issues warranting investigation.'
Here's Connolly telling the same story on his One Night Stand Down Under special from 1999.
Published: 26 Jan 2022
What do you think?