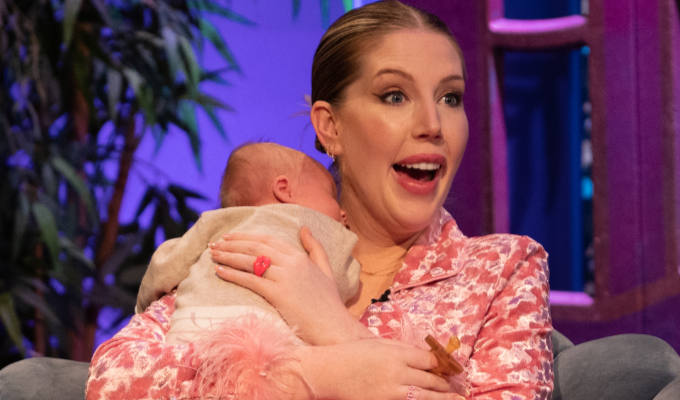 Katherine Ryan brings her baby to work on a panel show
Katherine Ryan brought her new baby on to the set of a panel show, in what's believed to be a TV first.
Her son, Fred, was just a few weeks old when he appeared with his mum on Mel Giedroyc's Dave programme Unforgivable.
When the host expressed surprise that Ryan would record the show so soon after giving birth last summer, she replied pragmatically:'Well, someone offered me money to come, so here I am.'
The baby spent the whole programme quietly in his mum's arms, and Giedroyc said it was 'insane' that he didn't cry at all.
'It was extraordinary that baby –he was only two or three weeks old,' she said at the launch of Dave's new season of programmes today.
But Giedroyc added that she 'felt bad' about all the confessions the youngster was exposed to – including his mum speaking about her dalliance with a bouncer at her high school prom.
Ryan has also been taking Fred on tour with her, but admitted it was more difficult now than it was when her 12-year-old daughter, Violet, was small.
Earlier this month, the 38-year-old said:' It is tough to tour with a baby. I hadn't realised. I was a lot more elastic when I was 25, when I had Violet, both metaphorically and figuratively.
'I wasn't lucky enough that people were coming to see me on purpose when I was 25. I was gigging with my daughter, but I didn't remember it being difficult.
'My son Fred comes with me to all the cities and towns. I think we have cracked it now. He has seen a lot of the UK - we have got to do a lot of fun things. Every kid is different and I don't think he enjoys being on the road as much as Violet did.'
'It is a lot. Some other comics that I know, they are planning tours with a baby. I have messaged them and said, "Don't do it."'
The issue of bringing babies into the workplace was recently highlighted in Parliament, when Labour MP Stella Creasy brought her son Pip into a debate. It prompted Commons Speaker Sir Lindsay Hoyle to ask for a review of the rules.
• Katherine Ryan appears on the second episode of the new series of Unforgivable, which will air on Dave at 10pm on February 15.
Published: 25 Jan 2022
What do you think?