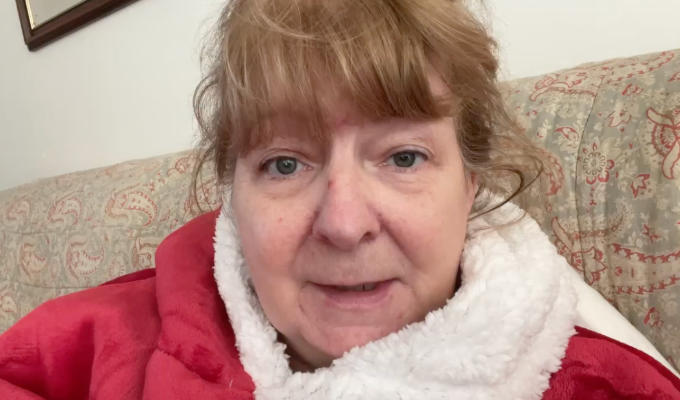 Janey Godley reveals Stage 3 cancer diagnosis
Janey Godley has been diagnosed with Stage 3 cancer, despite her hysterectomy earlier this month.
The comedian told her fans the news on social media, explaining she will undergo chemotherapy to fight it.
And as she revealed that she suffered 'short panic attacks' as she processed the news that the disease had spread beyond her ovaries, her fans rallied with messages of support.
Godley, who turns 61 this month, had hoped the operation would have allowed her to resume her life as a touring comedian, but is now unpacking the 'big "this is cancer Stage 3" parcel' with her husband and her daughter Ashley Storrie, a fellow comedian.
In a video posted on Instagram, she said: 'I thought the big operation, that would be it, get on with everything, heal up the scar, get back on tour.
'Not so, my life has completely changed and I have to process what this means now and it is obviously going to mean chemotherapy and treatment.
'I don't have any other options other than pretending it doesn't exist and buying a round-the-world plane ticket… And I don't think that's an option. I think the best option is to admit that this exists and to process it. And that's what I'm doing.
She added: ''There is so much to cope and to untangle and to scream and cry and I have very short panic attacks thinking about it.
'But it is what it is and I don't really have any other options other than to go through with all this and that's what I'm going to do. I'll try to keep you updated as best I can with my very frank and honest videos
'I'm absolutely terrified. I'm not brave in the least, I'm frightened and in shock and I've got really good people round about me, that's the best thing I can tell you. Thank you for all your love and support.'
Fans were quick to offer their support. One said: 'You will get through it- not going to be a walk in the park but I can tell you from experience it is survivable. I was where you are 5 years ago and having been an oncology nurse I knew everything that was coming to me but I'm still here and so far so good.'
Another said: 'I had stage 3 ovarian cancer 15 years ago . It was picked up after my op like you. I had 6 lots of chemo, 20 radio and 5 internal radio. I had the best treatment and am here to tell the tale ! Stay positive and surround yourself with positive people!!! Be kind to yourself ! Sending you lots of love and positive vibes.
Published: 17 Jan 2022
What do you think?