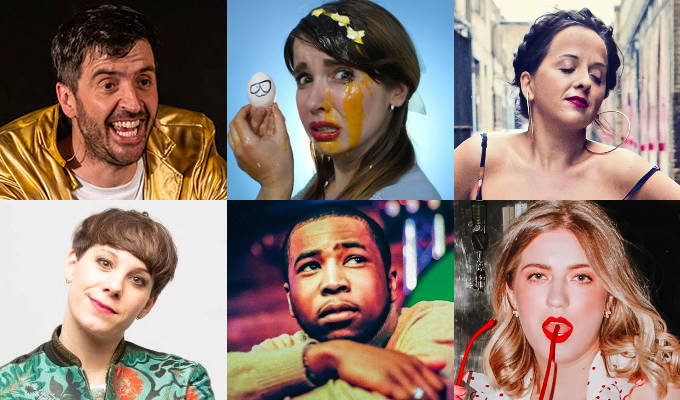 More comics tape Amazon Prime specials
Spencer Jones, Luisa Omielan, Suzi Ruffell, Michael Odewale, Olga Koch and Natalie Palamides are to record new Amazon specials, Chortle can reveal.
The comedians will all be part of the next series of Soho Theatre Live, and plan to tape their stand-up shows at the prestigious London theatre in the New Year.
Last week, the venue made the last-minute decision to close over the Christmas period because of the spread of the Omicron variant of Covid, cancelling all shows until January 4.
The new specials are due to be recorded there from January 15 to 22. The series will eventually comprise ten stand-up shows, which means four are still to be revealed.
The six confirmed so far are, with their official blurbs:
NATALIE PALAMIDES: LAID: In this Best Newcomer Edinburgh Comedy Award winning hour, a woman lays an egg every day and faces the decision: to raise it or eat it. A raucous masterclass in clowning comedy, this will be a filming like you've never seen.
MICHAEL ODEWALE: #BLACKBEARSMATTER: Stand-up comedy rising star Michael Odewale is recording his Best Newcomer nominated show for his debut comedy special. Join Michael as he tries to figure out what really matters and what's just noise in this exploration of being young, black and British.
SUZI RUFFELL: DANCE LIKE EVERYONE'S WATCHING: Suzi Ruffell has made a name for herself by turning tragedy and anxiety into big laughs. But now she's actually happy. She's made a show to answer the question: are all stand-ups at their best when they are miserable? Fingers crossed no.
OLGA KOCH: HOMECOMING: Edinburgh Comedy Award nominated,Olga Koch has her new passport in hand and is trying to figure out who the hell she is as an immigrant and certified teen drama queen. You've seen her on Mock The Week, QI and more, now see her perform her own comedy special.
LUISA OMIELAN: POLITICS FOR BITCHES 2: Politics. Brexit. Life. Death. Cancer. Not always the funniest topics, but in Luisa's hands everything can be hilarious.
SPENCER JONES: THE THINGS WE LEAVE BEHIND: Star of the BBC's The Mind of Herbert Clunkerdunk and Mr Winner, Spencer Jones records his very first comedy special. The Things We Leave Behind is an absurd mash-up of comedy styles, mixing looped music, props, stand-up, turbo clowning and puppets for your eyes, ears and face. As stupid as it is hilarious as it is touching, this show bagged Spencer an Edinburgh Comedy Award nomination..
Free tickets to the recordings are available from Standing Room Only.
It is the third season of Soho Theatre specials released on the streaming platform.
The first, released in 2020, comprised Aditi Mittal, Dane Baptiste, Jen Brister, Jessie Cave, Joel Dommett, Josie Long, Lazy Susan, Nish Kumar, Panti Bliss, Rhys James and Shappi Khorsandi.
And the second, put out last month comprised Jordan Brookes, Jessica Fostekew, Janine Harouni, Kai Samra, Sindhu Vee, Sarah Keyworth, Catherine Bohart, Nina Conti, Desiree Burch and Kieran Hodgson.
Published: 19 Dec 2021