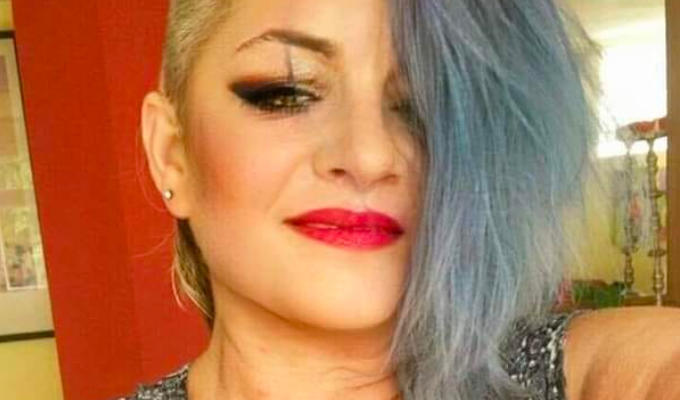 'So welcoming, nurturing and down to earth'
Tributes have been paid to London comedy promoter Emma Emslie, after her death was reported at the age of 54
With her husband Ron she ran the East Dulwich Cabaret from the late 1980s to the late 1990s, before taking over the Hob in nearby Forest Hill.
Their venues played host to many stars in their early days, including Jo Brand, Mark Lamarr, Eddie Izzard and Sean Lock – while Daniel Kitson honed many of his acclaimed shows at the Hob.
Latterly, the couple moved to the Kent coast where they booked Whitstable Comedy Club.
Tributes have been flooding in from comedians after news of her death circulated online – every one of them praising how supportive her gig were.
Michael Legge tweeted: 'You couldn't get anyone more supportive than Emma Emslie at The Hob and EDC. What a genuinely great person. Friendly, sweet, funny and rude. What a huge loss. One of the true greats on the comedy circuit.'
Simon Bligh said: 'Shocked to hear the news that my old South London comedy friend Emma Emslie has passed away. Always supportive, always fun and always ran great gigs. East Dulwich Tavern was my local pub, gig and refuge for 10 years or so. Real community place for me.'
Susan Murray posted: 'More legends of the comedy world are gone. So sad to hear of the passing of Emma Emslie her and Ron were part of the original fabric of the comedy circuit for decades. So welcoming, nurturing and down to earth. First open spot I did at East Dulwich Tavern she put me on with Steve Frost and cos he'd been in The Young Ones I was blown away and star struck. You will be sorely missed darling woman. RIP'
Chris Neill posted: 'So gutted to hear the heartbreaking news about Emma Emslie. As so many others have said, both she and Ron were the most encouraging, kind, and supportive of comedy club owners. In a particularly bleak period of my life, they kept me busy, in work and in the company of friends. I know so many of us have reason to be grateful for their friendship. Emma was gossipy and naughty, funny and a delight.'
And Richard Morton added: 'Very sad to hear that the lovely Emma Emslie has died. It's over 30 years since Emma and her husband Ron first booked me for their fab gigs at the East Dulwich Tavern then later at The Hob, Forest Gate. Emma was always very encouraging and supportive - a joy to be with. Sending love and condolences to Ron and the family, she will be much missed'
Published: 2 Dec 2021
What do you think?