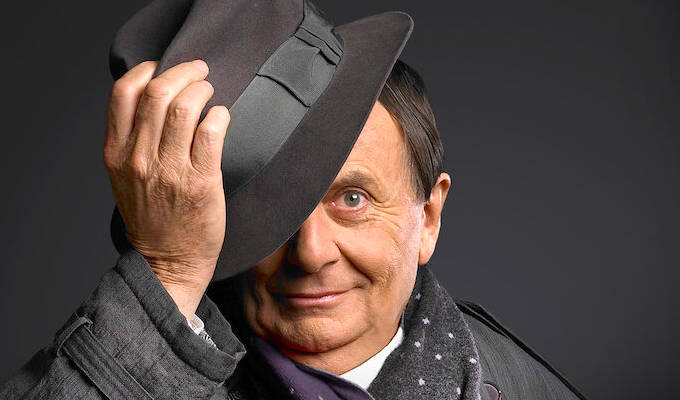 Barry Humphries announces new UK tour
Barry Humphries is to return to the UK stage – mainly performing as himself.
However alter egos such as Dame Edna Everage and Sir Les Patterson will make an appearance in the Man Behind The Mask tour, via video.
But primarily the show will be focussed on the 87-year-old entertainer talking about his childhood, family relationships, attitudes and career.
Humphries said: 'This is a show in which I am the principal character; it's not Les, it's not Edna, it's not Sandy Stone. It is really about this character called "me". I'm not in disguise.
'It is the story of my generation, it is a story of a life spent in the theatre and a life spent in comedy, and it will show what it is like to be a clown.
'In a way, this is perhaps the bravest thing I've ever done, and I hope the most entertaining. I think people might be agreeably shocked and they certainly will learn much they didn't know."
Of the video aspects, he added: 'Audio-visual technology has made dramatic strides in my life and it's now possible for me to be on stage with one of my own characters. They may intrude. I might be interrupted. I might even be upstaged.'
Humphries began performing in his native Melbourne, Australia, in the 1950s, but became a major star in the 1960s when he moved to London and became part of the new wave of satirical comedy spearheaded by Peter Cook,
In March 2012, Humphries announced his retirement from live entertainment, stating that he was 'beginning to feel a bit senior'. But since the farewell tour that followed he has hosted cabaret shows.
And in 2018, he provoked controversy over comments he made calling gender affirmation surgery as 'self-mutilation' and transgender identity as a 'fashion'. In the wake of the backlash, the Melbourne International Comedy Festival dropped the name 'Barry' for its top award.
His Man Behind The Mask tour kicks off with three nights at the Nottingham Playhouse, starting on April 7, and culminates with two nights in London's West End, at the Gielgud Theatre on Sunday May 29 and Sunday June 5.
» ​Barry Humphries tour dates.
Published: 22 Nov 2021
What do you think?