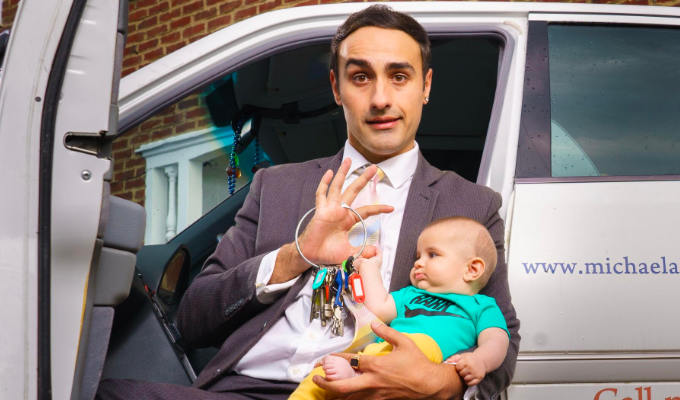 Stath, Sandilands and Curb all return
Here's our pick of the week's best comedy programmes on TV, radio and on-demand in what's a very busy week for comedy
Sunday October 24
JOE LYCETT VS THE OIL GIANT: Ahead of the Cop26 climate change summit next weekend, Joe Lycett takes on one of the world's most powerful companies - oil giant Shell - as he investigates whether its eco-friendly advertising really paints the right picture of a company that still drills a huge amount of oil and gas .Our guess is 'no', given that he made the below spoof advert for the show! Channel 4, 9pm
THE DEIRDRE O'KANE SHOW: An all-Irish edition of the stand-up showcase tonight as the host and her house band Abandoman are joined by Martin Angolo and Joanne McNally. Sky Max, 10pm
SORRY I DIDN'T KNOW: Kemah Bob, Sara Pascoe, Shazia Mirza and Verona Rose are the guests in tonight's episode of the Black History Month panel show. ITV, 10.20pm
Monday October 25
THE OUTLAWS: It's billed as a drama, and certainly has its share of thrills and spills, but with Steven Merchant at the helm (and writing the script),there's a healthy dose of comedy running through this new series, about a disparate group of lawbreakers thrown together to complete a community service sentence. Co-stars include Christopher Walken, no less, and Poldark's Eleanor Tomlinson, Read our interview with Merchant about the series here.BBC One, 9pm.
CURB YOUR ENTHUSIASM: Larry David returns for his 11th series, in which he continues to prove how seemingly trivial details of one's day-to-day life – a cold cup of coffee, a stained shirt, a missing toothbrush – can precipitate a catastrophic chain of events. Sky Comedy is airing the episodes just hours after they premiere in the US. Guest stars for the new series include Tracey Ullman, Patton Oswalt, Kaley Cuoco, Albert Brooks, Lucy Liu, Woody Harrelson, Bill Hader Julie Bowen, Rob Morrow and return appearances for Jon Hamm and Vince Vaughn as well as regulars JB Smoove, Susie Essman, Jeff Garlin, Cheryl Hines, Richard Lewis and Ted Danson. Sky Comedy, 9pm
SANDILANDS: Gold's seaside comedy returns for a second series, starring Sanjeev Bhaskar as the Les Vegas, and Natalie Dew as his daughter Emily Verma. This series also welcomes Tracy-Ann Oberman as Donna Vegas, Emily's estranged mother, while other cast members include David Walliams, Sophie Thompson, Simon Bird and Craig Parkinson. The three-episode series is stripped at 10pm tonight, tomorrow and Wednesday. Gold, 10pm
ABERYSTWYTH STAND-UP SHOW: Tadiwa Mahlunge, Cerys Bradley, Leila Navabi and Tudur Owen in a night of stand-up comedy from the Aberystwyth Comedy Festival. Hosted by Kiri Pritchard-McLean. BBC Radio Wales, 6.30pm
FRANKIE BOYLE'S NEW WORLD ORDER: The comic's back with a new topical show, with guests Miles Jupp, Sophie Duker, Kiri Pritchard-McLean and Jamali Maddix tonight.BBC Two, 10pm
RCHARD OSMAN'S HOUSE OF GAMES: It's not a pairing anybody expected to see, but Wigan stand-up Chris Washington and Pussycat Doll Kimberly Wyatt are on the line-up for this week's shows, competing alongside TV presenters Sean Fletcher and Louise Minchin. BBC Two, 6pm
Tuesday October 26
STATH LETS FLATS: The triple-Bafta-winning comedy returns for a third series, written by and starring Jamie Demetriou as Stath, the incompetent Greek-Cypriot letting agent who works in the family business in north London. Series 3 picks up from the shock ending of the acclaimed second series, as Stath is faced with rescuing Michael & Eagle and his relationship with Katia (Ellie White), while expecting his first child by Carole (Katy Wix). Meanwhile, his sister Sophie (Natasia Demetriou) and best friend Al (Al Roberts) deal with the fallout of finally declaring their feelings for each other The whole series will be available to stream or download for free on All 4 following the transmission of this episode.
QUESTION TEAM: Joining Richard Ayoade are Nish Kumar with a round about movies, Rosie Jones on dictators and Maisie Adam on driving tests. Plus, Richard's special guest is Mat Ewins, who reinvents the history quiz with an inter-dimensional voyage through time. Dave 10pm
INSECURE: Issa Rae's Emmy-winning comedy series, originally based on her acclaimed web series Awkward Black Girl, returns for its fifth and final season. Sky Comedy, 9pm
Wednesday October 27
WHAT'S FUNNY ABOUT…. THE GOOD LIFE As the self-sufficiency sitcom is revived for the stage, original star Felicity Kendall joins TV veterans Peter Fincham and Jon Plowman to give the inside story of John Esmonde and Bob Larbey's show, which originally ran from 1975 to 1978. Radio 4, 11.30am with the full hour-long version on Radio 4 Extra tomorrow at 10.30pm.
Friday October 29
MRS BROWN'S BOYS LIVE: Brendan O'Carroll's mega-successful comedy is back for a one-off Halloween special, broadcast live. The plot, for what it's worth, has Agnes receiving a surprising visitor from her past… but when no one else can see her ghostly guest they think she's gone mad. BBC One, 9.30pm
LOS ESPOOKYS: Created by Julio Torres, Ana Fabrega and Fred Armisen, Los Espookys, the primarily Spanish-language (with English subtitles) comedy follows a group of friends who turn their love for horror into a peculiar business in a dreamy Latin American country where the strange and eerie are just part of daily life… Sky Comedy, 10pm
Saturday October 30
SPITTING IMAGE: The satirical puppet show makes the leap from streaming service Britbox for another terrestrial one-off. ITV, 9.30pm
DIANE MORGAN BELIEVES IN GHOSTS: Comedian Diane Morgan, famed for her investigative powers as Philomena Cunk, trawls the BBC archive for the best real-life tales of ghost hunting, hauntings, and unexplained phenomena in this three-hour Halloween special, first broadcast in 2017. Radio 4 Extra, 9am
Published: 24 Oct 2021
What do you think?