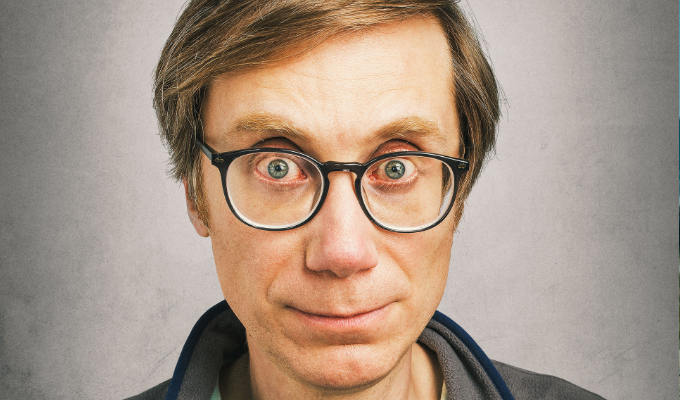 Christopher Walken made me an omelette... which I was not expecting
Not much good has come from Brexit and Donald Trump… but today's divisive politics has at least inspired a new TV venture from Stephen Merchant.
His forthcoming BBC comedy-drama, The Outlaws, features a disparate array of characters being thrown together to serve a community payback sentence – from a spoilt aristocratic celebrity, to a right-wing businessman; and from a rabble-rousing protester to youngster drawn into gang culture.
'The country has become very compartmentalised,' Merchant said. 'During Trump and Brexit everyone had drawn up their drawbridge and was not willing to engage with the other side. You ended up demonising the other side or seeing them as this homogenised group of people. So anyone who voted Brexit was over here and if you weren't a Brexit person then they were all in the same camp.
'It seemed to me that's obviously not the truth. Everyone might on the surface appear to be one thing, but if you were forced to encounter those people – literally in this case – perhaps your empathy would grow.
'I'm quite optimistic that when people talk and communicate, those barriers do come down and you can find common ground. And I feel like we have lost some of that.
'In the first episode of The Outlaws, one of the characters labels everybody else's as a certain type of person; it was trying to make that statement that there are all these stereotypes and then hopefully so some degree you can peel back the onion.'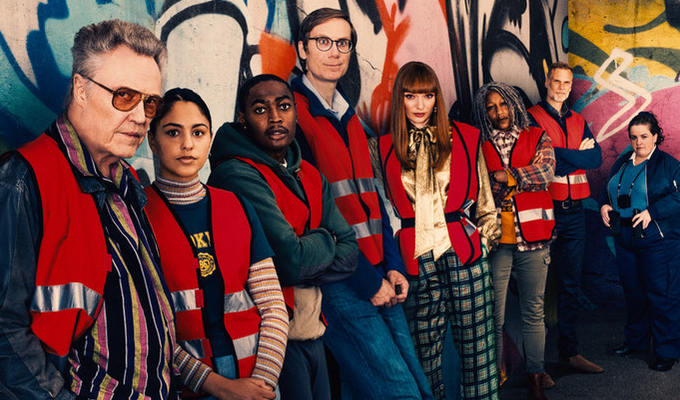 A clear example of this is the businessman, John, played by Darren Boyd, a conservative figure who feels his certainties are being eroded and that 'you can't say anything any more'. Sounds a bit like Merchant's erstwhile colleague and warrior on the front line against counter culture, Ricky Gervais!
Speaking to Chortle and a small number of other journalists, Merchant said of the character: 'Sometimes we're mocking him and sometimes we're not… that seemed like an interesting way to approach it rather than trying to demonise any one. So I didn't share all of his opinions, but I was trying to not hammer that point all the time.'
Boyd, right,
agrees, saying: 'We're throwing a spotlight on people's prejudices and inherited worldviews. Initially the show doesn't shy away from looking at these people at their ugliest. But then the script gives them the opportunity to shed those sorts of blinkered views and we get to see what's really brought them there.
'I read this quote recently by Audre Lorde, who said: "It's not our differences that divide us. It is our inability to recognise, accept and celebrate those differences." I think The Outlaws holds that sentiment very, very close to its heart.'
Merchant knows the variety of people who end up working off their sentences as his parents both worked for the community service department in his native Bristol, where The Outlaws is also set.
'My mother was always careful, she would say, "I can't tell you about specific cases…" as if it was sensitive information and I couldn't be trusted,' Merchant says. 'But not naming names, she would talk about some of the people that came through the doors.
'I was always intrigued because it was such a mix of people. You'd have the businessman who'd got caught drink-driving or some student who'd got in trouble for some minor thing. Or there was an old guy that was stealing Cabbages from allotments just to get community service because he was lonely and he liked the social aspect of it.
'What was interesting to me was that it was a way of bringing completely disparate groups of people together. You could have a random cross-section of society and it was totally legit that they were all there doing community service.'
He also got a few stories from his father, who was involved in managing the tools and the equipment that the offenders used to do their work
'They were constantly being robbed,' Merchant said: 'They found ever more elaborate ways to steal the tools, whether it was leaving windows open, or pretending to lock a chest of tools and then coming back later and pinching them.
'Or an MP came to do a photocall and half the offenders had gone to the pub. My parents were hurriedly trying to get them back so that they would stand in line and look deferential when this dignitary came by.'
As well as creating the show (with his American co-writer Elgin James) Merchant also stars as a dispirited solicitor, as part of an ensemble cast that also includes Poldark's Eleanor Tomlinson, playing the socialite, and – in a major coup, Christopher Walken, playing an 'charming, slightly devilish conman' in his first major role on British television.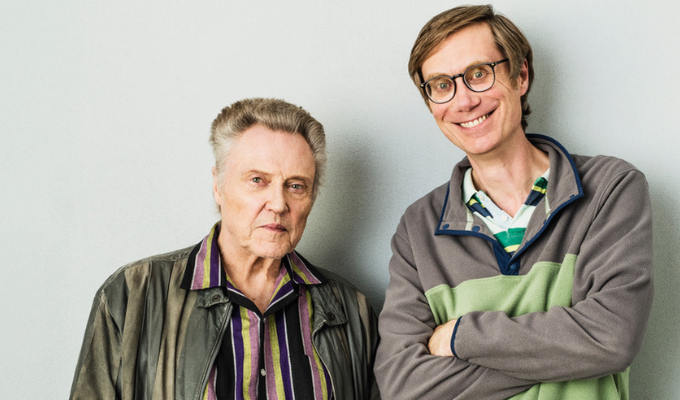 'I wanted him to be an older American actor because I liked the idea of him feeling a little alien in Bristol, like he's the man who fell to earth,' Merchant says. 'But ultimately he's just a petty thief like everybody else.'
'When you start to talk about it, there aren't that many actors of that vintage who have that kind of charisma and that audience recognition. Someone mentioned Christopher Walken and I thought that would be amazing.
'We got word to him somehow. Chris doesn't use phones and he doesn't have a computer, so it was a bit hard to contact him. I ended up driving up to Connecticut, and met Chris at his house. I was there for hours.
'Someone said to me before we got there, "Chris is comfortable with silence". And sure enough, he's got nothing to prove to anybody and is quite happy to just ask a question, let you give an answer, then he mulls it.
'One of the first things he said was, "would you like some of this omelette?" – as he'd made an omelette, which I was not expecting. I've subsequently read in an interview that the fact that I ate it was one of the reasons he agreed to do the show.
'He asked me, "What is Bristol like?" and I said to him – and I'm bit even joking – I said it's kind of like San Francisco has a big bridge, and it's really hilly and kind of arty. '
Indeed, Merchant was keen to return to Bristol to shoot, explaining: 'I felt like I knew the city quite well. I knew where the characters would live geographically and so we could kind of make it quite specific to the city. It also makes it easier for me to play a character because I wouldn't have to work on an accent.'
'What's always important to me – and we realised this with the success of The Office – is that often, the more specific you are, the more universal it becomes. When you're trying to be too general and you live in a no man's land people find it harder to dial in because they sense it seems inauthentic.'
Walken enjoyed his time in Bristol, too, calling it a 'terrific place' thanks largely to the substantial student population.
'There's a strong counterculture here,' he said. 'First time I was here there were riots, a lot of noise outside. Second time there was also a lot of noise outside, but I think it was on account of the soccer.'
And working on the show might even have softened his attitude towards shunning technology.
'The other day I was in the makeup trailer with a lot of my cast mates who are younger than I,' he said. 'I mentioned an English actor named Clifton Webb who was one of my favourite actors… and none of my younger colleagues knew who he was.
'I said: "He's one of the best actors, how could you not know?" And this one guy took his cell phone and punched in "Clifton Webb". And in 30 seconds he had all these details – where he was born, his credits, where he started, where he lived in Hollywood, everything! It was amazing. I thought, "I've got to get me one of those cell phones."'
Alongside Walken's alter-ego Frank, another of the more memorable characters is Tomlinson's glamorous, upper-class Instagram star, Gabby, who was inspired by any number of celebrities who have done community service: Lindsay Lohan, Paris Hilton, Boy George – and especially Naomi Campbell.
'She wrote a fantastic article, a kind of diary of doing community service in New York, where she says something like, "I spoke to one chap who's doing it, and he'd never be on a plane, and I didn't have the heart to tell you I had been on two private planes that week",' Merchant says.
'So again, it was that idea that community service is the great leveller: you can have fame and glory and whatever else but you do a crime and you have pick up rubbish in a high-vis jacket.'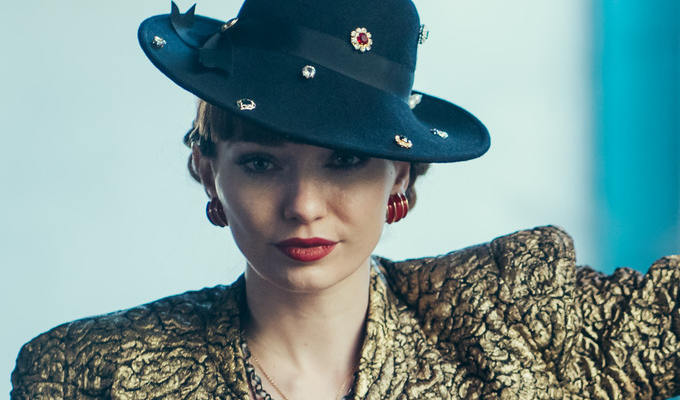 'She's a great one for a cause but without really understanding the cause,' Tomlinson says of her character: 'She's just gets behind something and hilariously gets it wrong all the time. We watch her make these mistakes that just make you cringe.
'She is just desperate to be loved and she's desperate to be wanted. She's actually hurting quite a lot and she's chosen a life of drugs and alcohol to hide behind. But as the series goes on, we see her sort of trying to make those changes in her life to ultimately become a better person.'
The BBC and Amazon, which will also host the series, are clearly expecting big things from The Outlaws, with production already well under way on a second series.
Shooting of the first was shuttered after a few days when Covid stuck, giving Merchant the chance to write a second batch of episodes featuring the same gang of characters. But this could just be the start.
'I quite like the idea, in theory, that you could have a whole new set of offenders in another series,' Merchant says, 'You could set it anywhere else in Manchester, or Glasgow or Dublin – it could be fun to have a show that never ends with just different sets of offenders – like Doctor Who.'
• The Outlaws is coming to BBC One at 9pm on Monday October 25.
Published: 14 Oct 2021
What do you think?