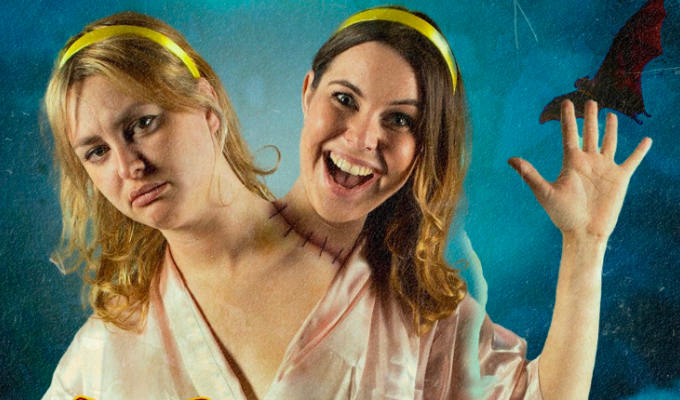 Hauntingly funny...
The best of the week's live comedy. Use Chortle's search panel to check out our full listings of more than 5,579 events by date and region.
Monday October 25
LONDON: Stand-up Archie Maddocks brings his provocative show Big Dick Energy 2.0 to Soho Theatre for three nights, starting today. First performed in 2019, it covers race, political instability and social politics.
GLASGOW: Consummate contrarian Fin Taylor brings his latest provocative show So My Wife… to the Stand tonight, and its sister Edinburgh venue tomorrow.
Tuesday October 26
LONDON: The agency Individual Artist Management is hosting a showcase gig at 21Soho - so expect the acts to bring their A-game to impress the industry. Those on the packed bill include Alfie Brown, Fern Brady Jordan Brookes, Josie Long,Olga Koch and Sam Campbell.
SOUTHAMPTON: A nice little club night at Mango Thai features offbeat Josh Pugh and stand=up and rapper Joe Jacobs.
Wednesday October 27
MANCHESTER: TV's Desiree Burch, comic and beatboxer Vince Atta and the comedy dictator President Obonjo are among varied acts on The Alternative Black Cabaret Showcase at the Frog & Bucket tonight.
BRIGHTON: The new, new act competition Brighton Grin reaches its climax with a final at the Electric Arcade. It should be a good night given the city's reputation for nurturing comedy stars.
Thursday October 28
LONDON: Haunted Hall offers a suitably Halloweeny night of comedy, cabaret and carousing at Bush Hall. Crystal Rasmussen will host the evening, with Tim Key, Sikisa, Jordan Brookes, Siblings (pictured), Celya AB and Jordan Gray joined by a live band and followed by DJs. Audiences are invited to dress up in their spookiest costumes and enjoy Halloween-themed cocktails.
LONDON: Comedy Bars is a gig that mixes stand-up and music gig. Representing the comedy side of the equation at 21Soho tonight are the varied talents of Erika Ehler, Mark Silcox, Mo Omar and Nico Yearwood, with Joe Jacobs straddling both genres.
Friday October 29
LONDON: The fools of the Weirdos comedy collective are back for a new ridiculous, low-rent extravaganza: Murder At the True Crime Convention. This 'immersive, very silly and charmingly ramshackle show' at the Museum Of Comedy all weekend is the first live outing for the team since 2019.
NOTTINGHAM: The Glee presents some of the most underrated comics on the circuit tonight, in the form of the sharp-witted trio of Michael Fabbri, Robin Morgan and Sean McLoughlin. Tomorrow they swap one Morgan for another, with Morgan Rees replacing Robin Morgan, but it's still a recommended line-up.
BOURNEMOUTH: Laugh Out Loud Comedy Club presents an appealing line-up at the Pavilion Theatre with Fin Taylor, Christopher MacArthur-Boyd, Leo Kearse and regular MC Damion Larkin.
Published: 24 Oct 2021
What do you think?