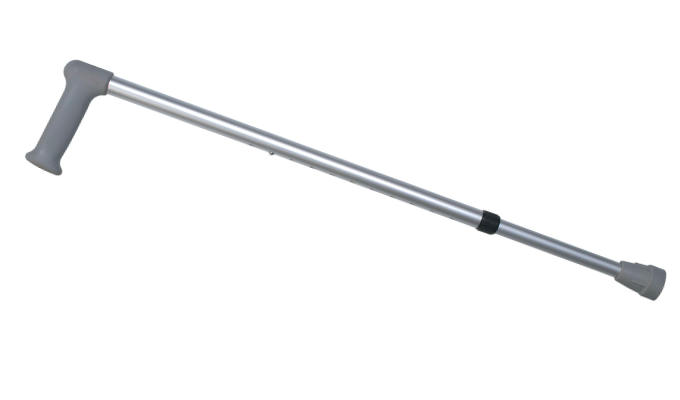 Turned away from a comedy club... for having a walking stick
A woman has revealed how she denied entry to a comedy club – because she uses a walking stick.
Staff at Bar Rumba in Central London refused to let Lauren Day into the Comedy Carnival show there on Friday night, claiming her mobility aid could be used as a weapon.
Promoters of the stand-up night have apologised to her for her 'unacceptable' treatment – but say they have 'no control' over the door staff, who are employed by the venue itself.
Day made her treatment public on Twitter, with a post that attracted more than 3,000 likes.
She explained that three members of the door staff told her that her walking stick 'was not permitted as it was considered a weapon.'
In an email to promoters which she shared on social media, Day said: 'The word "licence" was used a lot as justification and I would like to know what this means in regards to permitting disabled people to a venue.
'Being refused entry due to my mobility aid has never happened to me before, nor has it ever crossed my mind as a logical means of excluding disabled people from a venue.
'Unlike your staff, I tried to find a solution. I suggested if this was your policy, then a member of staff should be available to escort me, or even hold onto my stick and be available should I need it at any point (considering the majority of the show is seated). I was told that if I entered, it would be without my stick and that was final.'
She said she was offered tickets to Comedy Carnival's other venue in nearby Covent Garden, but she would not be able to make it in time for the start of the show unless she took a taxi, which the promoters declined to pay for.
'The only outcome I would be satisfied with, is if you acknowledge your policy discriminates against disabled people and to then permit mobility aids into your venue going forward,' she told promoters. 'I am not interested in hearing any more reasons as to why not allowing me entry, was the right decision.'
Refused entry at @comedycarnival because my walking stick is considered a weapon 🙃 I'm not laughing, I'm sad x

— Lauren (@laurenjoyday) October 8, 2021
In response, Julia O'Neill from Comedy Carnival told her: 'We agree that last night's incident is unacceptable. I would like to assure you that Comedy Carnival does not condone discrimination in any shape or form and prides itself on presenting a diverse and inclusive line up of comedians.
'I'm afraid we are just promoters at the venue, with no control over the security. We feel that the current security policy is excessive for hosting a comedy event and have forwarded our concerns on several occasions to Bar Rumba who has not changed their current security procedures.'
Picture: Ewan Munro, CC BY-SA 2.0​
After directing her to complain to Bar Rumba, O'Neil said: 'Please accept our sincere apologies for last night's incident and rest assured that we will pursue a full investigation and explanation from the club on your behalf.'
She also offered a refund and free tickets to the other Comedy Carnival venue.
However, the response only led many observers to wonder why Comedy Carnival continued to host events at the venue every Friday and Saturday night if there were repeated issues over door policy.
One Twitter user said: 'You DO realize that the correct course of action is to no longer book events at this venue, right? You have a responsibility to all of your customers to make sure every venue is fully accessible BEFORE you confirm with them.'
Another said: 'Pretty weak response. If you're not absolutely fine with illegal discrimination then the only course of action available is to immediately sever your relationship with this venue.'
And equality lawyer David Troame said he believed both the promoters and the venue were jointly liable for discrimination under the Equality Act.
Chortle approached Bar Rumba for comment yesterday, but the venue has not responded.
Published: 11 Oct 2021
What do you think?