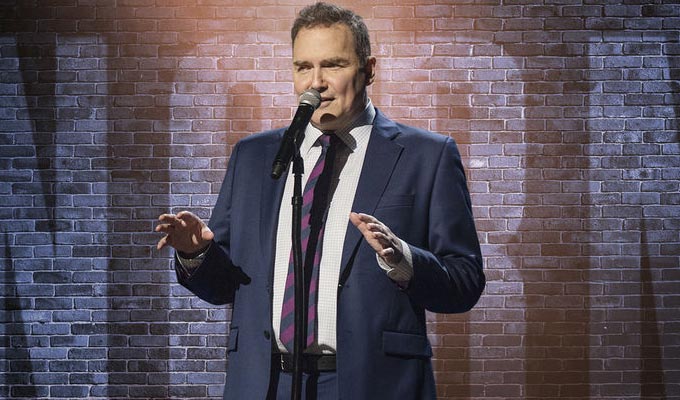 Tributes as Norm Macdonald dies at 61
Tributes have been paid to Canadian comedian Norm Macdonald after his death at the age of 61.
Lori Jo Hoekstra, his longtime producing partner, told Hollywood website Deadline that the comic had been diagnosed with cancer nine years ago but kept his illness secret.
And his agent, Jeff Danis, told Varierty: 'Norm was an original. He defined American humour with honesty and blunt force.'
Even Canadian Prime Minister Justin Trudeau paid tribute, tweeting: 'The world was a much funnier place because Norm Macdonald was in it. We've lost a comedic genius, and a great Canadian. Sending my condolences to his loved ones and countless fans mourning his passing.'
Macdonald got his break writing for the sitcom Roseanne and made guest appearances on shows such as The Drew Carey Show and NewsRadio.
He was probably best known for being a cast member on Saturday Night Live for five years from 1993, where he hosted the popular Weekend Update section and became known for his impressions, including Burt Reynolds, David Letterman, Larry King and Quentin Tarantino.
After leaving SNL, he starred in the 1998 film Dirty Work and in his own sitcom, The Norm Show, from 1999 to 2001.
In 2013, he took to podcasting and in 2018, he hosted a Netflix talk show, Norm Macdonald Has A Show, based on the same formula.
Other film credits include Grown Ups, Funny People, Deuce Bigelow: Male Gigolo and the Dr Dolittle trilogy.
Fellow comedian Jim Carrey tweeted tonight: 'My dear friend Norm MacDonald passed after a brave 10 year battle. He was one of our most precious gems. An honest and courageous comedy genius. I love him.'
Conan O'Brien added: 'I am absolutely devastated about Norm Macdonald. Norm had the most unique comedic voice I have ever encountered and he was so relentlessly and uncompromisingly funny. I will never laugh that hard again. I'm so sad for all of us today.
Steve Martin said: 'We loved Norm MacDonald. One of a kind.'
And Jon Stewart tweeted: 'No one could make you break like Norm Macdonald. Hilarious and unique. Fuck cancer.'
Her is Mcdonald performing stand-up about coronavirus last year:
Published: 14 Sep 2021
What do you think?