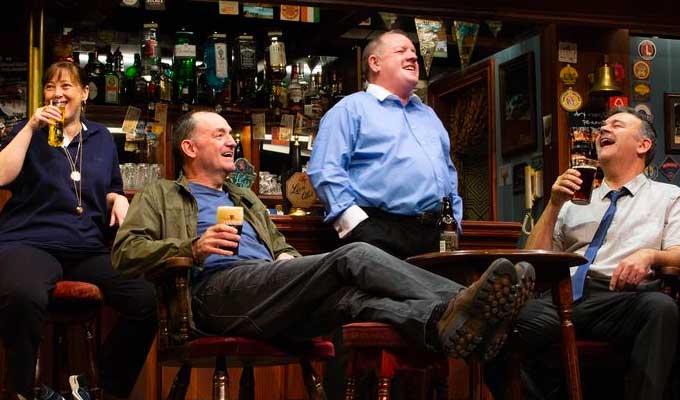 Early Doors stage show released as video-on-demand
The stage version of Early Doors has been released via video-on-demand in aid of charity.
Written by and starring Craig Cash and Phil Mealey, the theatrical sequel to the pub-based BBC Two sitcom that ran for a live tour in 2018 and 2019.
Now it has been released on video platform Vimeo, priced £4.99 to rent for a limited period only,
Money raised will go to the charity linked to Manchester's Christie Hospital, one of the largest cancer treatment centres of its type in Europe.
Mealey, who plays Duffy, says: 'Most of us will have come across The Christie, whether that be through a family member, friend or colleague being treated. And we all know what an amazing place it is and what incredible work it does. It was an easy decision for us to support The Christie and we really hope the download is a huge success.
'The film has been edited from the arena footage of the tour, and while this might have created a minor compromise on production values, it has more than made up for this in laughs and captures the atmosphere and joy of this live show experience wonderfully.
Set among the regulars at Stockport boozer The Grapes, the live show also features John Henshaw as landlord Ken, plus James Quinn, Joan Kempson, Judith Taylor, Neil Hurst and Nick Birkinshaw.
A film of the live show was never intended for commercial release, and the new version was produced by Phil McIntyre Entertainment from the feed from cameras used to show the action on the big screens at arenas.
The Christie Charitable fund warns that 'it's not as polished a product as might be expected from a filmed live show. However, what it lacks in polish, it more than makes up for in laughs'.
Early Doors originally ran for 12 episodes over two series on BBC Two in 2003 and 2004.
Read our review of the sold-out run of Early Doors at The Lowry theatre in Salford here.
Published: 13 Sep 2021
Recent News
What do you think?