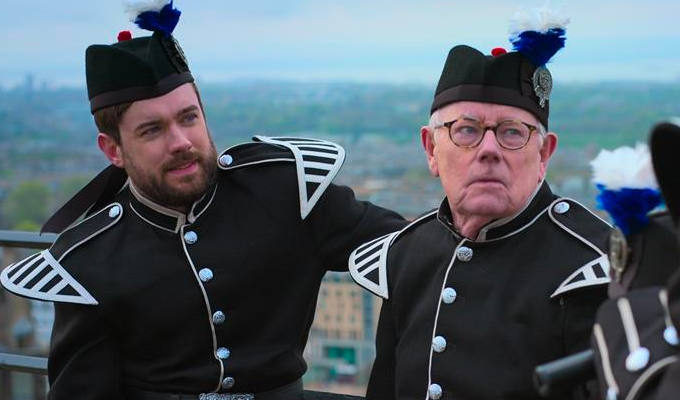 End of the road for Jack Whitehall's Travels With My Father
Here's our pick of the week's best comedy programmes on TV, radio and on-demand:
Monday September 13
ALMA'S NOT NORMAL: The full series of Sophie Willan's semi-autobiographical sitcom kicks off with a rerun of the pilot, which first aired last year and won the comedian a writing Bafta. After a recent break-up, Alma (Willan) tries to get her life back on track and find a new job, while coping with a tumultuous family life. Her heroin-addicted mum (Siobhan Finneran) has been sectioned for arson and her vampish Grandma Joan (Lorraine Ashbourne) wants nothing to do with it. Willan talks about the show here, and here is our review of the first episode.BBC Two, 10pm
BRITISH AS FOLK: Darren Harriott, Fern Brady and Ivo Graham embark on a road trip around the UK, starting off in Leicester to see if the Midlands really is as mundane as the stereotypes suggest. Let's hope for the programme-makers' sake it's not.
RICHARD OSMAN'S HOUSE OF GAMES Thanyia Moore is the only comedian on this week's shows, competing against TV presenters Kaye Adams and Mark Chapman, plus Life On Mars star Philip Glenister BBC Two, 6pm
Tuesday September 14
ALAN DAVIES AS YET UNTITLED:Munya Chawawa, Nina Conti, Morgana Robinson and Bill Bailey share their favourite anecdotes this week. Dave, 10pm
JACK WHITEHALL: TRAVELS WITH MY FATHER: The fifth and final season of the Netflix series features the comedian Jack Whitehall traveling the UK with his dad Michael.
Friday September 17
THE CLEANER: David Mitchell stars alongside Greg Davies in this week's episode as an extremely pompous and important author who is trying to write his latest masterpiece. But he is finding it difficult to concentrate: partly because of writer's block, and partly because his grandmother has recently burnt to death in his living room. BBC One, 9.30pm
BILL BAILEY: LARKS IN TRANSIT: Last month, Strictly champion Bill Bailey became the first British comedian to tread the hallowed boards of The Royal Opera House. Now broadcast as an hour-long special the performance mixes music and even a hilarious interpretation of an opera song. Here is our review of the live show. BBC One, 10.35pm
YOUNG ROCK: The NBC comedy series about wrestler Dwayne Johnson's early days lands on Sky Comedy tonight. Its premise is that Johnson, who plays himself, is running as a candidate in the 2032 United States presidential election – and each episode prompts a flashback to a previous period of his life. Either as a ten-year-old in Hawaii in 1982, as a high school student in Pennsylvania in 1987 or as a college student in Miami in the 1990s. Sky Comedy, 8pm
Published: 12 Sep 2021
Recent News
What do you think?