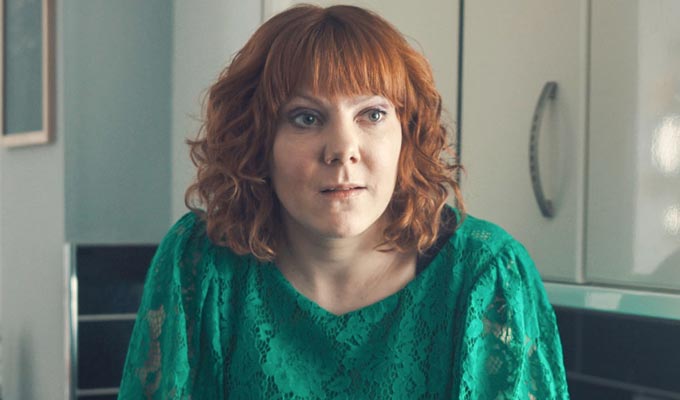 'She is going to be all right... but she is going to mess up too'
Alma's Not Normal, Sophie Willan's comedy about a Boltonian wild-child and her family of eccentric, unruly women – including a mum battling a heroin addiction and a vampish grandma – returns to BBC Two next week following a Bafta-winning pilot. Here star, writer and executive producer Willan talks about the show...
---
How has Alma's Not Normal come to BBC Two?
In 2018 I won the BBC's Caroline Aherne Bursary where I was able to get into a room with former commissioners Shane Allen and Kate Daughton and tell them all about the sitcom I'd been planning and plotting in my head for years.
I developed the script with [production company] Expectation over 18 months and then put on a live read-through for the BBC's Patrick Holland. It was an anarchic do; a lot of shouting, singing, swearing and twerking... all with Patrick on the front row... he loved it. We got an on the spot commission to film it!
And the pilot won you a Bafta for best writer!
I wasn't expecting to be nominated and I was really shocked to have won. I was away filming Alma so I was staying on a farmyard, and wearing a sequin dress, watching the ceremony on a laptop.
When I found out, I ran around for about five minutes because I wasn't expecting to win. My friend and co-star Jayde Adams took a video of it that was so barmy it went viral!
For some pure unbridled joy please watch this 2 minute video of when @sophiewillan wins a 2021 BAFTA for Comedy Writing for the Alma's Not Normal PILOT. #almasnotnormal @BAFTA #bafta2021 #bafta #BAFTAAwards2021 #baftas pic.twitter.com/foP1UV013Z

— J A Y D E (@jaydeadams) May 24, 2021
My grandma was a big influence in my life and had always encouraged me to write – she passed away the night I got nominated for the Bafta and it was a month to the very minute that I actually won my Bafta – so that moment felt very much in the spirit of Grandma. She was my foster parent and she had always been a very big encourager of me to be a writer and performer – so it felt quite a special thing really.
The series is funny, have you always laughed through the dark times?
Definitely, I come from a very funny family, and I think that's how all of us have survived, really. There's been a lot of trauma, not just my life but generally and we have a laugh in the tough times.
I don't think there's ever been a storyline of a care-experienced person in a comedy. And when we are onscreen it's very rarely positive.
As someone who's personally been through the system and had my own records back, telling this story with honesty, humour, optimism and love was extremely important to me.
The fact that there is a strong dynamic character at the heart of it the series must have been important?
And flawed. I think, that's the inspiring part of the series, that Alma is OK, but she is flawed and that is OK.
There will always be things that you'll struggle with, everyone does. But the thing I like about Alma is the depiction is real - she is actually optimistic; she is positive, and she is going to be all right, but she is going to mess up too. She will make weird choices; she will struggle and that's OK – you don't have to be all or nothing.
What were your co-stars like to work with?
All the women cast are so passionate about the show – I feel really, really proud to have such a lovely group of people who have been wonderful, kind and supportive. Lorraine (Ashbourne), Shiv (Siobhan Finneran) and Jayde (Adams, below with Sophie in the show) are the absolute best co-stars; such incredible actors who all something completely original and unique – they're all strong, powerful, female performers and yet none of them are similar to each other.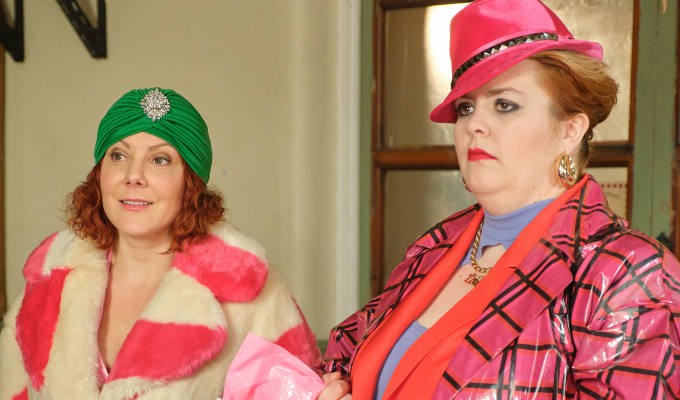 The costumes Alma wears are very distinctive. How much influence did you have on that?
I put a couple things in the first episode's script such as 'pink fur coat' and Daniella Pearman the costume designer, just ran with it… The amount of precision and thought put into the costumes was fantastic, each mood of Alma has a slightly different look, and every character has their own colours. Daniella is really smart with it and it makes it really fun but really clever.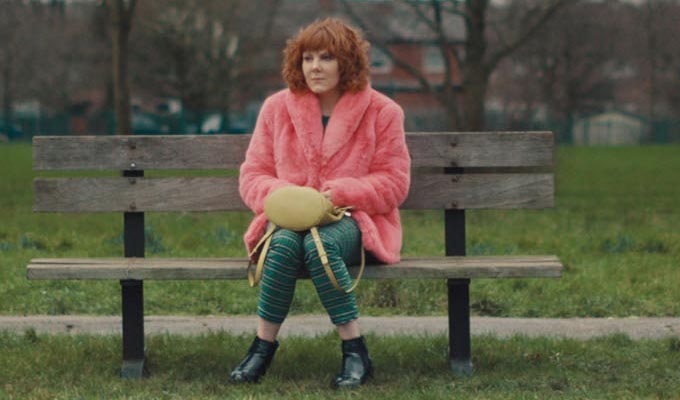 How important was music in the series?
I'm really passionate about music on screen and I wanted to push as much as possible a soundtrack with female leads. A lot of punk, riot girl sounds and music that I felt was a bit different and represented Alma.
What do you hope audiences will take away from Alma's Not Normal?
Well, I hope they find it funny, that's the first and foremost. I hope that it's uplifting and optimistic while also connecting in its more difficult moments.
You offered internships and possibilities to young people who had been in care as part of the production. Can you tell us about this?
I've always done a lot of work with care-experienced people. I have a charity called Stories of Care, where we publish books with them and do creative schemes and professional development.
On every project I've ever done I have some scheme going on, so it feels fitting to be the same with the TV series. So we set up a training scheme with [producer] Gill Isles, Expectation and the BBC, for care-experienced people to work in different departments, either production office, or costume departments, runners on the floor.
So they get paid experience in TV, which can lead onto other roles in the industry. One of our trainees went straight onto a second job in telly after doing so brilliantly on Alma.
• Alma's Not Normal starts on BBC Two on Monday September 13 at 10pm. All episodes will be available on iPlayer following the broadcast of episode one.
Published: 9 Sep 2021
What do you think?