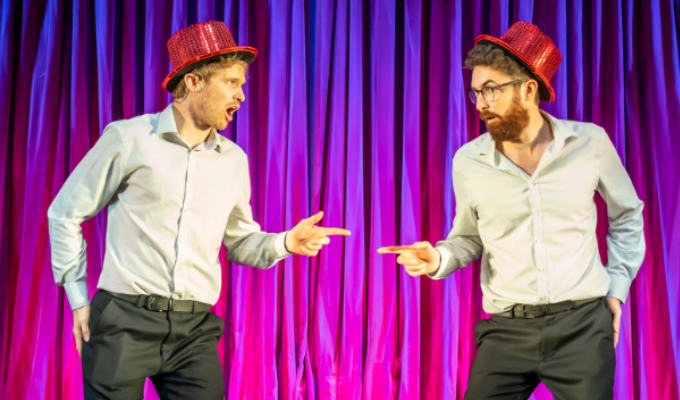 The Pin nominated for Southbank Award
Comedy duo The Pin are the best breakthrough act in comedy this year, according to the Southbank Awards.
Alex Owen and Ben Ashenden have been put forward to represent the artform for their Zoom-based sketches and their West End show The Comeback. The two-hander briefly ran in December before theatres were closed again and is due to return in July.
They also have parts in the new Jurassic Park film; Judd Apatow's latest mocie The Bubble, This Time With Alan Partridge; the new romcom What's Love Got to Do With It; and forthcoming Netflix drama 1899.
The Southbank Breakthrough Award is sponsored by The Times, which revealed the nominees this morning.
Comedy critic Dominic Maxwell wrote that the pair 'have spent the past year grasping the Zoom zeitgeist like nobody else, giving new purchase to their brainy yet barmy comedy double-act interplay. Using isolation and miscommunication to their benefit, they kept bashing out short, sharp, surprising online sketches that earned them more than eight million views.'
And he called The Comeback 'something utterly of its time, yet also timeless in its straight-faced, celebratory silliness'.
Also on the shortlist are Mishka Rushdie Momen (classical music); Noah Jupe (TV drama); Samuel Bailey (theatre); Arlo Parks (pop); Alberta Whittle (visual art); Arielle Smith (dance); Nick Rowland (film); Alex Woolf (opera); Marina Kemp (literature).
The South Bank Sky Arts Awards is due take place on Sunday, July 18, at The Savoy in London and will air on Sky Arts on Thursday July 22 at 9pm.
The new series of the South Bank Show, exploring the work of the breakthrough nominees, begins on Sky Arts and Now on June 24.
⇛ Chortle review of The Comeback
Published: 14 Jun 2021
What do you think?