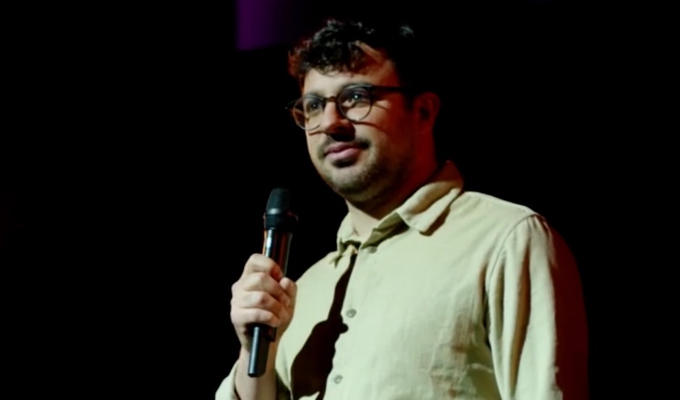 Simon Bird unveils his first stand-up special
Simon Bird has unveiled his debut stand-up TV special, without ever having performed it in front of an audience.
The surprise release – entitled Debrief – has just landed on Channel 4's streaming service All 4.
It was recorded last month at the Boulevard Theatre in London with Bird facing empty seats and eerie silences.
In it, he even asks: 'Can you even really call yourself a stand-up comedian if you've never heard a single person laugh?'
Over 45 minutes, the Inbetweeners and Friday Night Dinner star addresses topics such as nationalism, sexism, the environment, and the NHS as he looks at the decade leading up to the coronavirus pandemic.
Bird's first forays into stand-up came at university where he became president of the famous Cambridge Footlights troupe. He took part in Chortle's national student comedy awards for four years in a row: 2005, 2006, 2007 and 2008, coming second in his final attempt with a routine mocking his repeat entries.
But that year he was also cast as Will McKenzie in The Inbetweeners - giving him an early fame which made it more difficult to develop his stand-up voice without being associated with his screen persona.
'I never came into this industry this thinking really I'd want to be an actor, I came in as a comedian,' he told Scoobius Pip on his Distraction Pieces podcast last year.
'My path, I thought coming out of university, was that I would really give comedy a go and that means that I'll try and do a stand-up show at Edinburgh and keep doing sketch shows at Edinburgh and find my voice and hopefully build some sort of career
'The Inbetweeners happened so suddenly and so quickly that I was moved into the world of acting, rather than stand-up and sketches.'
But he said he was 'toying around' with the idea of stand-up because of the creative freedom it offered. 'I am now trying to re-state my claim to doing my own thing. I'm trying now to forge my own path and make stuff where I have final creative say.'
After The Inbetweeners, Bird was cast in Adam Goodman from Channel 4's Rose d'Or-winning sitcom Friday Night Dinner, which ended last year after a decade-long run, and more recently he has moved into directing with his first feature film, Days of the Bagnold Summer released in 2020. He also recently directed Series 3 of BBC3's Pls Like.
Simon Bird: Debrief was made by Steve Coogan's production company Baby Cow and produced by Rupert Majendie.
Published: 14 May 2021
What do you think?