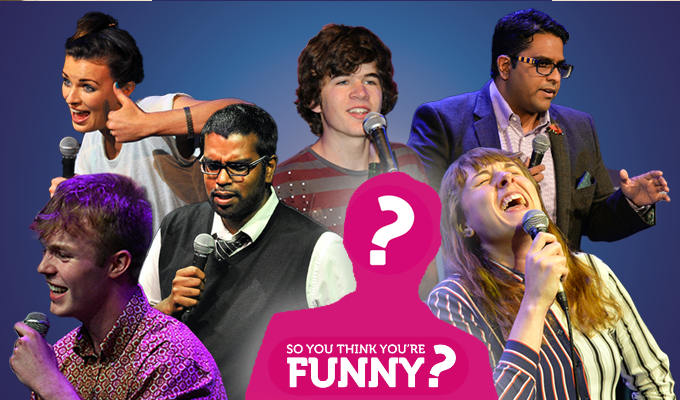 So You Think You're Funny? returns
Leading new comedian competition So You Think You're Funny? is to return this year, organisers at Edinburgh's Gilded Balloon have announced.
After a one-year hiatus, 30 online heats will take place in the coming months, each focussing on a different region of the UK, and most in conjunction with a local comedy venue, including Angel Comedy at The Bill Murray, Cherry Comedy in Dublin and the Frog and Bucket in Manchester.
Organisers hope the final will take place at the Edinburgh Fringe during August as normal.
The talent hunt, which kicks off on May 2, is the longest running comedy newcomer competition, now in its 33rd year. Previous winners have included Peter Kay, Dylan Moran, Tom Allen and Aisling Bea.
Rhod Gilbert, who made the 2002 final alongside Greg Davies, Mark Watson, Rufus Hound and Nina Conti, has said: 'SYTYF was the first competition I entered. I'd been doing stand up for about six months. Getting to the final was probably the most exciting moment of my life.'
The winner gets a cash prize and a trip to perform at Montreal's Just for Laughs Festival, among other benefits. However, applications have already closed.
The schedule for 2021 with links to tickets for each heat, priced £4, are available at the Gilded Balloon website.
Gilded Balloon artistic directors Karen and Katy Koren on this year's competition:
Gilded Balloon have presented So You Think You're Funny? for more than 33 years and it's become an important platform for brand-new comedy performers.
Winners, finalists and contestants have gone on to build hugely successful careers in live comedy and television with the experience of the competition behind them.
Unfortunately, last year, we had to postpone the competition which left more than 450 contestants without the opportunity to take part. We feel it is imperative to the comedy industry's recovery to be able to run the competition this year despite the challenges we continue to face.
Due to ongoing uncertainties, the initial rounds of the competition will take place online and we hope to be in a position to host the Grand Final as a live show in August.
Throughout the competition we aim to give contestants support and guidance to present their own original material and work on their stagecraft. We also hope the experience will help new performers to build confidence in their material and gain a network of their own in the comedy industry which will be vital as the live comedy circuit begins to rebuild.
We're delighted to work with many well-respected industry experts on our judging panels making the competition a huge opportunity to be seen by some of the best.
We're excited to get started with this year's competition and to support new acts at a time when there are very limited opportunities for them to perform. We're delighted to work with some of the incredible comedy venues who have hosted the heats in the past and will be involved this year online.
We would also like to thank those that support the competition. Gilded Balloon continue to fund So You Think You're Funny? personally as we feel it's an important step up into the industry, in order to continue to do so, we need the public and those in the industry to help us by buying tickets to the shows and support the online version of the competition.
Published: 22 Apr 2021
What do you think?