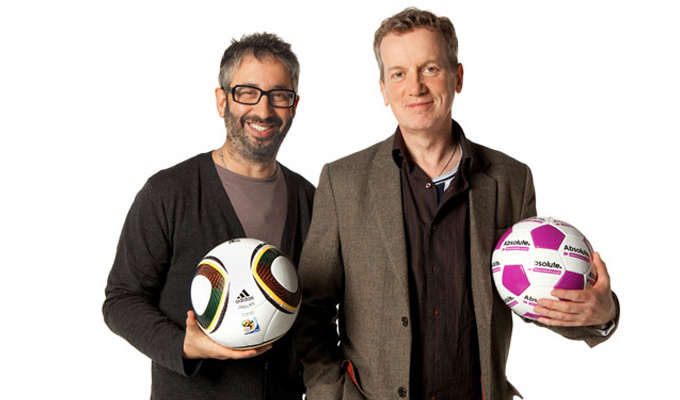 Baddiel and Skinner to re-release Three Lions... again!
Baddiel and Skinner are to put out Three Lions yet again this summer.
The release, for the European Championships, will mark the 25th anniversary since the original song hit No 1.
Recorded with the Lightning Seeds, a different version was made for the 1998 World Cup, which again topped the charts, and it was put out again in 2002 and 2006.
And for the 2010 World Cup, Skinner, Baddiel and Lightning Seeds frontman Ian Broudie were joined by Robbie Williams and Russell Brand under the name The Squad for another new version, but that only reached No 21.
The song became a surprise No1 again in 2018, on the back of England's success in that year's World Cup, but the following week plummeted to No 97.
Skinner reveals the re-release on the Graham Norton Show tonight, admitting: 'We've milked it!'
He added: 'In the summer I received a package from the Guinness Book of Records with two framed certificates.
'I took the first one out and it was for being number one four times and the next one was for the biggest drop in the same week – we dropped from number one 96 places
'That was the Jiffy Bag of showbusiness – the highs and the lows!'
He also spoke about the resumption of his Showbiz stand-up tour, saying: 'We'd done three months touring and a run in the West End when my agent suggested another 20 dates and then lockdown happened.
'It will be 18 months since the last gig – it's the greatest interval of all time!'
David Schwimmer and Nick Mohammed are also on tonight's show to talk about the second series of their Sky comedy Intelligence.
Schwimmer also revealed he was heading to Los Angeles to shoot the much vaunted Friends reunion next week.
'I will get to see everyone for the first time in years,' he said.
Explaining more about the get-together, he added: 'Nothing is scripted and we are not in character. We are all ourselves, although there is one section of it that I don't want to give away, but we all read something
'I should have genned up on old episodes, but I just haven't been able to bring myself to catch up on the 236 shows. I guess I need to watch a lot over the next five days!'
• The Graham Norton Show in on BBC One at 10.45pm tonight. Next week's guests include Tom Cruise and John Bishop.
Published: 2 Apr 2021
Recent News
What do you think?