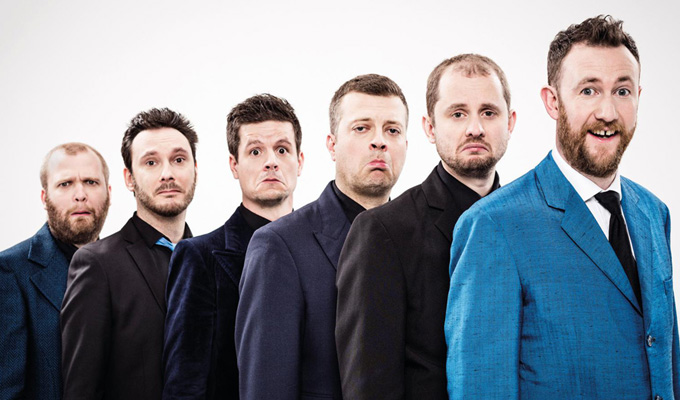 The Horne Section's first live stream
The week's best comedy on demand. For more streaming gigs use the search box with 'online' as the region:
Now
WORST GIG EVER: In this newly-launched YouTube podcast, Tom Lucy chats with fellow stand-ups about their nightmare shows. Maisie Adam is up first with future guests in the series, produced by Comedy Sauce, including Joanne McNally, Russell Kane and Jamie Laing.
Saturday March 27
BEST MEDICINE FESTIVAL GALA SHOW: A top-notch line-up of comics grace this showcase for the festival that underlines the links between comedy and mental health, from laughter being a coping mechanism to offering sessions to help performers improve their wellbeing. This, though, is a straight-up virtual comedy show featuring Tim Key, Ahir Shah, Jordan Brookes and Sindhu Vee. Tickets are available here.
LIVE AT THE COVID ARMS: Fresh from winning its Legend Of Lockdown Chortle Award this week, the streaming phenomenon returns for its first anniversary bash, with Kiri Pritchard-McLean again on hosting duties. The strong bill comprises Evelyn Mok, Isy Suttie, Maisie Adam, Olga Koch, Ria Lina and Sarah Keyworth and tickets are available here.
Sunday March 28
ELIS & JOHN: THE VINTERN OF OUR DAVE CONTENT: A laboured pun that doesn't quite work? Heaven forbid! Kings of #content Elis James and John Robins reunite producer Dave Masterman and former intern-turned-producer Vinay Joshi to offer their PCDs (podcast devotees) this live-streamed show, from 8pm. Tickets.
YOUR PLACE COMEDY: Another of the free livestreamed shows supporting, and supported by, 12 small Yorkshire and Humber venues offers an ace line-up this month, with host Tim FitzHigham introducing doyen(n)es of Taskmaster (and much else besides) Ed Gamble and Lou Sanders. It streams here from 8pm.
Monday March 29
MARK WATSON: WISH YOU WERE HERE: The comic hosts the second of his 'apologies for our absence' shows for the Melbourne International Comedy Festival, at the rather unsocial hour of 10am in the UK. Read our review of the first instalment, then get tickets for the second.
Thursday April 1:
RACHEL FAIRBURN: COMEDIANS TELLING SOAP STORIES: The comic invites Will Duggan, Jason Forbes, George Fouracres and Maisie Adam (who's having a busy online week!) to share 'doof-doof'-worthy tales inspired by the soap operas. Tickets
Friday April 2
COMEDY KARLNIVAL: Produced by the Galway comedy festival, this ambitious digital show is split over two nations. Shappi Khorsandi, Angela Barnes and Barry Castagnola will be performing their jokes from a studio in London while host, Karl Spain and fellow comic Emman Idama will be performing at the Roisin Dubh comedy venue in Galway. Neither will have a live audience but can interact with the same virtual front row on a big screen in front of them... Get your tickets, priced €12 (about £10.30) here.
THE HORNE SECTION: The six-headed comedy band fronted by Alex Horne launch a new series of their chart-topping podcast with their first livestreamed gig. The show promises to be interactive, inviting ticket buyers to send song requests, and any burning questions using the hashtag #HorneSectionRequests. Tickets, priced £10, are available from Dice. Guests over the series include Nina Conti, Rachel Parris and Jessica Knappet.
SUPERJAIL!: The Adult Swim animation, which aired in the US from 2008 to 2014, lands on All4 today. Characterised by psychedelic shifts and extreme graphic violence, the intense show was described by the LA Times as 'hard to take in at a single viewing'.
LADS: This six-part mockumentary written, produced and directed by its stars Kat Ronson and Katerina Robinson, is being billed as a 21st Century Kevin & Perry. Released on Vimeo today, it follows two teenage boys from East London: Dave, who has anger issues, and Charlie, whose mum still chooses what clothes to wear. Here's a trailer:
.
Published: 27 Mar 2021
What do you think?