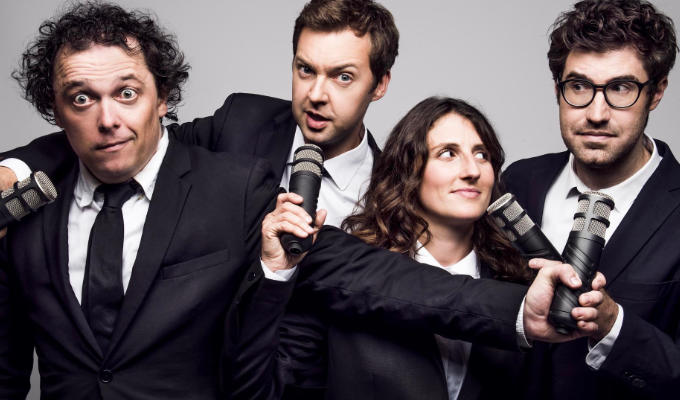 1,225 minutes of facts
QI researchers are to air a mammoth 20-hour version of their hit podcast No Such Thing As A Fish.
The team will be hosting 35 guests for 35 minutes each, which adds up to 1,225 minutes of live broadcast, over March 12 and 13.
Their guests will include Michael Palin, Sally Phillips, Tim Minchin, Rhys Darby, Shappi Khorsandi, John Lloyd, Richard Osman, Sue Perkins, Ian Hislop, Eddie Izzard, Gemma Whelan, Stephen Fry and Comic Relief co-founder Richard Curtis.
Curtis said: 'The QI team has really out done themselves with this brilliant idea - 35 guests to mark 35 years of Comic Relief is an extraordinary feat to pull off… They have some amazing guests, and I am sure a ridiculous amount of interesting facts to enjoy from home.
'I'm nervous to be part of such a clever line-up and will spend the next week dusting off my Comic Relief trivia.'
And in a statement, the Fish team of James Harkin, Andrew Hunter Murray, Anna Ptaszynski and Dan Schreiber said: 'We've spent seven years messing around and only recording for an hour or two at a time.
'This year we are thrilled to be pushing ourselves to the absolute limit in the service of one of the best causes around. We aim to read out every fact in the world at least once.'
The event will be live-streamed on Comic Relief's YouTube page from 3.30pm on March 12.
Published: 3 Mar 2021
What do you think?