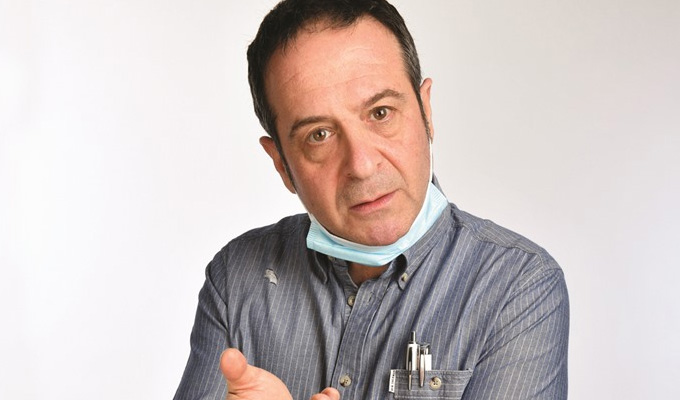 What's the prognosis for the NHS?
The week's best comedy on demand. For more streaming gigs use the search box with 'online' as the region.
Now
THE MISADVENTURES OF HEDI AND COKEMAN: Netflix has had quite some success with French programmes Call My Agent and Lupin... but this ribald drug-fuelled romp, just landed on the platform, is an altogether different beast. Here's a trailer:
MEET THE STREET: John Rutledge, aka Eggsy, from comedy hip-hop group Goldie Lookin Chain, launches a new podcast in the guise of retiree David Plympton, who is in conversation with various members of his neighbourhood. Comics playing the role of guests include Richard Sandling, Mike Bubbins, Eleri Morgan, Mark Davison, Dan Mitchell and Alex Lowe. Rutledge says: 'Lockdown has been duller than a loaf of Tesco value bread so I decided to make something to escape the drudgery of the current situation. Forget idle banter over the garden fence - David Plympton's Meet the Street introduces you to the record-breakers, sporting greats, and literary giants living just next door through a series of fascinating in-depth interviews.' Listen on Audioboom.
Today
LEICESTER COMEDY FESTIVAL: Continues for a final week online. Our pick of the day is a new Weirdos show about the city's famous son, entitled Gary & The Crisp Factory. Stars include Ali Brice, Eleanor Morton, Joz Norris, Lucy Pearman, Adam Larter, Kat Bond, Cassie Atkinson, Sam Nicoresti, Christian Brighty. The week's full listing are on the Leicester Comedy Festival website.
WOMEN'S AID STREAMATHON: An eight-hour marathon from comedian Alexis Strum with guests including Rob Rinder, Bilal Zafar, Lee Kern, Toastie and Dana Alexander. It's free on Twitch, and started at midday.
AN HOUR AND SOME (AND MORE!) OF Tony Law: The freewheeling absurdist presents a recording one of his previous shows, preceded by some new material delivered via webcam. Producers Go Faster Stripe give tonight's schedule as: '7.30pm - show starts... not really sure what is going to happen after that.'
Monday February 15
LIFE DAY MARATHON GIG: Comic Chazz Redhead has set up this 12-hour gig as a celebration of life, having previously struggled with suicidal thoughts. The show will start at 11am on Twitch, and comedian guests will include Olga Koch, Huge Davies and Juliette Burton. We wrote more about the initiative on Chortle last month.
THE CREW: This new Netflix sitcom stars Paul Blart: Mall Cop's Kevin James as a NASCAR crew chief. It looks very old-school from the trailer (love the the way bosses address their team by standing with their back to them!):
Tuesday February 16
MARK THOMAS – CHECK UP: OUR NHS AT 70: The NHS has probably never been appreciated more than now, so what better time for Mark Thomas's look at the origins, state and future of the health service. This is a filmed version of a live gig, introduced by the comic himself. Tickets from Go Faster Stripe.
WHEEL OF MISFORTUNE: Alison Spittle and Fern Brady's BBC Sounds podcast returns for a second series of embarrassing moments. For the first episode, their guests is the Great British Bake Off contestant Lottie Bedlow with Katherine Ryan, Jessica Fostekew and Kemah Bob lined up for the future. Brady said: 'I'm so excited we're back for a second series. Listening to the audience's insane stories of misfortune is the only form of socialising I have in lockdown.'
Thursday February 18
THE TIMEWASTER LETTERS COMPENDIUM: As we reported last week, Dawn French and Peter Serafinowicz have helped Friday Night Dinner creator Robert Popper record an audio version of the prank letters sent to companies and organisations under the guise of his alter-ego Robin Cooper... and the responses he got. The series launches for Audible subscribers today.
3 FOREIGNERS WALK INTO A BAR: Jarred Christmas hosts a new podcast from Union Jack Radio, in which comics from around the world – including Russia's Olga Koch, America's Reginald D. Hunter, and Japan's Yuriko Kotani – poke fun at the British way of life. 'Listeners can expect the panel of comedians to touch on subjects including Hartlepool,' says the broadcaster, slightly bafflingly. Six weekly episodes will be available from the Union Jack Radio website or the usual podcast channels.
Friday February 19
METALOCALYPSE: The second series of this Adult Swim animated dark comedy about a heavy metal band, known for its macabre and violent content, comes to All4 from today.

Also...
Here are some short comedy films that were released this week...
BREAKDOWN: The debut comedy short from writer-performers Sy Thomas and Oliver Britten, and director Dominic O'Riordan revolves around a desperate motorist stranded with a hapless local mechanic.
FURLOUGHED: Comedians Joz Norris an Matt Highton have compiled some of the sketches they've made during the pandemic into this half-hour pilot. It's a compilation of old and new skits, strung together with a loose narrative about lockdown:
THE ASTONISHING ADVENTURES OF ALFRED: This 12-minute spoof of 1950s, Enid Blyton-type stories comes from London-based comedy filmmaking duo Joe & Rory and revolves around a mystery-loving boy who comes into possession of a magical magnifying glass. .
Published: 13 Feb 2021
What do you think?