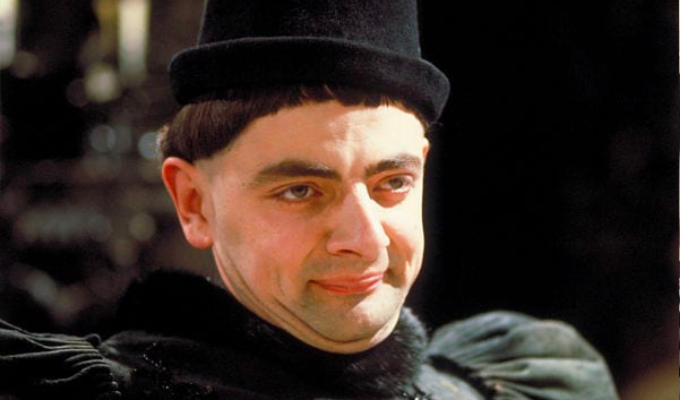 Now Blackadder gets an 'offensive language' warning
Blackadder has become the latest classic BBC comedy to warrant a warning over its content.
Fans watching the second episode of the first series on iPlayer are now greeted with the disclaimer: 'Contains discriminatory language and content that some viewers may find offensive.'
In the episode, first broadcast in 1983 and set in the 15th Century, Rowan Atkinson's title character clashes with Dougal McAngus, Duke Of Argyll, as played by Alex Norton.
Freshly returned from the Crusades, the Scot is awarded Edmund's land as a reward for his 'heroic deeds in battle' against the Turks.
And in an outburst against him, Blackadder says: 'You come in here fresh from slaughtering a couple of Chocos when their backs were turned and you think you can upset the harmony of a whole kingdom.'
The same racist slur got shamed football commentator Richard Keys in trouble in 2011, when he used it against a black player.
It is not the first BBC comedy to require a disclaimer to reflect changing times. Over Christmas, the 1971 movie version of Dad's Army was given a similar warning over its language. In it, Corporal Jones used the term 'fuzzy-wuzzies', as British soldiers once called troops from Sudan.
And today The Sun reported that an episode of the Royle Family has also been given a warning over an episode in which Jim Royle - as played by Ricky Tomlinson – calls Changing Rooms host Laurence Llewelyn-Bowen a 'nancy boy'.
In explaining its policy, the BBC says: 'Some older programmes on occasion contain language that some viewers find offensive, inappropriate or which have now fallen out of use, and for that reason, we do make that clear on BBC iPlayer and elsewhere.'
The first series of The Black Adder, as it was styled, was written by Atkinson and Richard Curtis.
Published: 14 Jan 2021
What do you think?