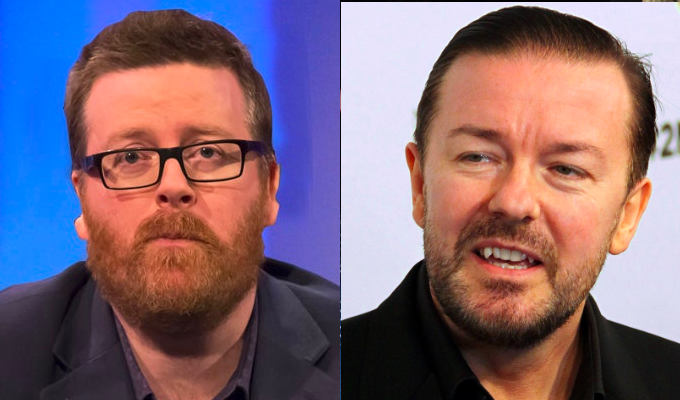 Frankie vs Ricky
Frankie Boyle has slammed Ricky Gervais over his jokes about trans people.
But his comments provoked an immediate backlash among the After Life creator's fans – who accused Boyle of hypocrisy given his track record on transgressive jokes.
The Glaswegian criticised Gervais as he poured scorn on his abilities as a stand-up during a BBC interview with Louis Theroux.
'If you're a stand-up watching him, you feel like, "Oh, that's someone doing a version of what we do",' he said.
'But really, it's that I saw him doing his routine about trans people and I thought it was very lazy.
'I would like him to have the same respect for trans people as he seems to have for animals. I don't think that's a lot to ask.'
Boyle added that Gervais is 'a brilliant actor, a brilliant writer, he's not a fucking stand-up comedian. Just because Ricky Gervais self-identifies as a stand-up comedian, am I supposed to say that he is one? It's fucking political correctness gone mad!'
Gervais has targeted Caitlyn Jenner, making jokes about her transition at the Golden Globe Awards in 2016. And in the wake of criticism of the gag, he doubled down on the topic in his stand-up.
But Boyle's comments, on Theroux's podcast Grounded, brought criticism for his own reputation – and in particular gags about Katie Price's disable son, Harvey.
Fellow comic Konstantin Kisin tweeted:Frankie Boyle criticising @rickygervais for offensive jokes is a brilliant finish to 2020. It's a pity Ricky doesn't have a disabled son otherwise Frankie could have done a brilliant takedown about him licking windows or something equally tasteful.'
Jonathan Pie - the blunt-speaking alter-ego of Tom Walker. - posted: 'Wait, is the Frankie Boyle who's now having a pop at Ricky Gervais for telling 'problematic' jokes, the same Frankie Boyle who established his career by telling jokes about a severely disabled child? Because if it is, several million hypocrisy meters have just melted.'
Another Twitter user called Liam Gray posted: 'The irony that Frankie Boyle, who's built a career from bullying a disabled kid and his mum, thinks Ricky Gervais is a wrongun for having the opinion that women shouldn't lose rights because of the actions of trans people is peak 2020.'
And another, using the name Mary Christmas, said: 'I'd like Frankie Boyle to have the same respect for women that he has for trans women. I saw him live and lost count of the number of "hilarious" rape jokes. I've never heard @rickygervais make a rape joke concerning women, trans women OR animals. Just saying.'
It is not the first time Boyle has taken aim at Gervais for his trans jokes, including such criticism in his special Excited For You To See And Hate This, released on BBC iPlayer earlier this year.
And others who have called out The Office creator include American comic Andy Kindler, who has used his annual State Of The Industry address at Montreal's Just For Laughs festival to call him out, saying: 'Ricky Gervais isn't afraid to go after the persecuted'. And, more bluntly: 'He is a despicable person.'
At the Golden Globes, Gervais brought up Jenner's gender reassignment, as well as her involvement in a fatal car crash in 2015, saying: 'She didn't do a lot for women drivers.'
And in his 2017 stand-up show he challenged the issue of self-identification, asserting: 'If I say I'm a chimp, I am a chimp'
Netflix has already brought Gervais's next stand-up special for a reported $20million – agreeing the deal before the comic had even thought about a theme or a title.
Published: 29 Dec 2020
What do you think?