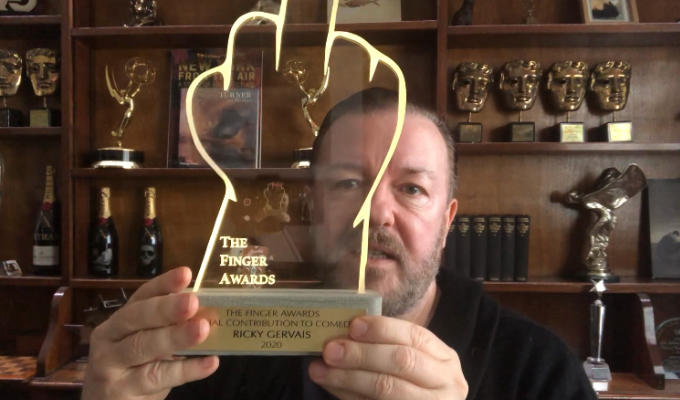 Ricky Gervais is given the Finger
His stand-up has not always been free of controversy – but Ricky Gervais is to receive an accolade for comedy that makes the world a better place.
The After Life creator is to receive recognition for his 'special contribution to comedy' at the Finger Awards on Friday.
The gongs were set up last year by Israeli comedy writer Omri Marcus to reward funny projects that have a positive social impact/
He said: 'There is no way to survive 2020 without some humour. It can help explain complicated issues, encourage safe behaviour and ease the tough days.
'Comedy has never been more critical than in 2020. It's a creative tool to push institutions, politicians and nations to re-think topics and make urgently needed changes.
'The Finger Awards honour those who have mastered that craft and share their achievements — no matter where on the globe they are.'
Last year's winners included the Belgian TV show Taboo, in which comedian Philippe Geubels spends a week with four guests with disabilities before doing a comedy set about each of their conditions; and The Tampon Book – a German initiative than disguised sanitary products as books so they would be exempt from sales tax.
For this year's awards, more than 100 nominations have been received from 30 countries
British comedian and former TV executive Cally Beaton will host Friday's online ceremony.
Published: 1 Dec 2020
What do you think?